Will Harangue
Talk

13
2,877
pages on Ben 10 Planet
Will Harangue is a character in Ben 10: Ultimate Alien who first appeared in Fame. He is a loud-voiced television newscaster who hosts his own show, Harangue Nation. Firmly convinced that Ben Tennyson is a threat to humanity, Will has launched a smear campaign against him and constantly tries to denounce him including turning the public against him as such.
Appearance
Ultimate Alien
Will Harangue wears a black suit with a black tie. He has brown hair with gray on the side and a square chin.
Omniverse
Will wears a black suit with a red tie and he has a pocket with a blue handkerchief.
Alien Hybrid Form
Will is green with fin-like ears, tendrills on his chin, gills on the back of his neck, tentacles instead of hands, has one eye on his face, two eyes on the sides of his head and another eye on a tendril on his left shoulder. He has lost his hair.
History
Ultimate Alien
Will Harangue debuted in the first episode of Ben 10: Ultimate Alien, stating in his program that Ben Tennyson is a threat and wanted Bellwood's population to turn against him right after Jimmy Jones revealed Ben's secret identity to the world. His declarations on TV put Ben in a bad mood and cause him to be worried about going to school, thinking that his classmates might hate him. However, when he finally goes, his classmates prove to be more grateful than Harangue (especially JT and Cash), much to Ben's surprise.
Will reappeared as the main villain in Video Games, where, with the help of Oliver Thompson, he tricks Ben into showing all his aliens' moves for what he think to be a video game, but actually serves to create a spider-like giant robot (referred as "the Stalker") able to counter all of Ben's aliens. He then uses the robot to try to assassinate Ben, even succeeding in defeating him at one point (though he chose to not destroy him immediately because he wanted his public to see Ben's death). The Stalker is eventually destroyed by Nanomech, who had not been scanned because of his size. Way Big then crushed its remains in front of Harangue and "accidentally" dropped it on the anchorman's car. Due to the Stalker's failure, Harangue fired Oliver. To avoid being arrested for attempted murder and vandalism, Harangue later used the footage as more proof of the violence Ben was capable of, angrily referring to the destruction of his vintage car as an act of juvenile delinquency.
Harangue also made an appearance in Hero Time, working alongside the so-called superhero Captain Nemesis trying to get bad footage of Ben. When Overlord was arrested, he tried to back up Overlord by blaming Ben saying that Overlord did bad things to stop "The Menace of Ben Tennyson".
In Eye of the Beholder, Harangue makes a cameo appearance on TV. However, his words are clouded by Ben's thoughts.
Will appeared again in The Big Story when Jimmy Jones reports that Ben (really Clone Ben) is working for a giant plant monster. Although he acknowledges him for providing photos of Ben as aliens, he does not seem to take him seriously.
Harangue appears on the Burger Shack television briefly in Double or Nothing.
In The Mother of All Vreedles, Will reported on a meteor.
Omniverse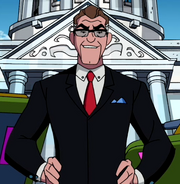 Will Harangue reappeared in
The Frogs Of War: Part 1
, when
Undertown
was exposed to the public because of the residents fleeing Earth due to the incoming
Incursean Empire
, he uses this discovery to once again make Ben look like a villain.
In The Frogs Of War: Part 2, after the Incurseans have successfully conquered Earth, with the help of Dr. Psychobos's Way Bads, Will congratulated them on defeating Ben and becoming Earth's new "benevolent" overlords, showing his collaboration with the invaders.
In Return to Forever, it is revealed that Will's collaboration with the Incursean's had damaged his reputation and his viewership, despite him making a five part special report to explain how he "sabotaged" the invasions.
In an effort to bolster his reputation and his fanbase, Will secretly worked with Joseph Chadwick and the remnants of the Forever Knights to scan alien DNA to create a device, the Highbreed Pulse Generator, which Harangue thought would turn all the aliens on Earth into humans, but in reality, it would destroy them.
After the Forever Knights remnants were stopped, Jury Rigg used the device to permanently change Harangue's DNA into a tentacled alien as payback for all the media harassment he gave to Ben, which he discovered to his shock when he woke up the next morning.
Appearances
Ben 10: Ultimate Alien
Ben 10: Omniverse
Video Games
Will Harangue appears in one of the commercials for Cosmic Destruction blaming 
Evil Way Big's
 (
Albedo
's) attack on earth on Ben stating "Ben Tennyson has brought upon us the Apocalypse" and providing screen shots of the damage that directly wreaks upon the environment to further enhance his campaign against Ben which was leaked to him by Captain Nemesis. Shockingly he attempts to use the opportunity to sell his book titled 
Ben 10: Threat or Menace?
Trivia
Naming and Translations
See Also
References
Ben 10 Villains
Main Villains
Albedo • Aggregor • Diagon • Incursean Empire • Forever Knights • Khyber • Malware • The Rooters • Vilgax • Zs'Skayr
Secondary Villains
Aloysius Animo • DNAliens • Elena Validus • Eon • Flame Keepers' Circle (Conduit Edwards, Esoterica) • Hex • Kane North • Lucubra • Michael Morningstar • Negative 10 • Psyphon • The Sotoraggian Mercenaries (Sixsix, Sevenseven, Eighteight, Twotwo) • Vulkanus • Will Harangue • Xenocyte • Zs'Skayr's Minions (Dr. Viktor, Mummy, Yenaldooshi, Crüjo, Kuphulu)
Minor Villains
Adwaita • Aggregor's Soldiers • Animo's Creations • Billy Billions • Carl Nesmith • Circus Freak Trio • Clancy • Computron • Computron's Minions • Evil Way Big • Fistrick's Gang (Fistrick, Corvo, Hoodlum, Unnamed Thug) • Gorvan • Jennifer Nocturne • Kraab • Ma Vreedle • Nanochips • Nyancy Chan • Palorfang • Pickaxe Aliens • Psyphon's Gang • R.E.D. • Rojo and her gang • Sublimino • Seebik • Slix Vigma • Squires • Ssserpent • Sunder • Sunny • Techadon Robots • Trumbipulor • Violet Offenders • Vilgax's Drones • Zombozo
One-Time Villains
Camille's Ex-Boyfriend • Captain Kork • Coach Finn • Collectimus • Garbage Monster • Highbreed Tree Monster • Howell Wayneright • Hulex (Hulex Colonel, Hulex Workers) • Jarrett • Kolar • Mayor Coleman • Mechaneers • Mizaru • Morgg • Mr. Mann • Mrs. Mann • Mutant Seagulls • Mycelium • Lord Transyl • Plant Alien • Plant Clones • Paltroon • Ragnarok • Red Robot • Road Crew • S.A.M. • Synthroid • Squid Monsters• The Decoy Queen • The Great One • Zombie Clown
Frenemies
Argit • Baz-El • Bellicus • Blarney T. Hokestar • Fistina • Hope • Hope's Stone Creatures • Mazuma • Mr. Baumann • Null Guardians • Pakmar • Raff • Serena • Simian • Solid Plugg • Vreedle Brothers (Octagon Vreedle, Rhomboid Vreedle)
Former Villains
Bivalvan • Cash • Dragon • Decka • Devlin Levin • Eon's Servants • Ester • Freed Ultimate Versions • Helen Wheels • Highbreed (Reinrassic III, Highbreed Commander, Highbreed Councilors) • J.T. • Kenko • Kevin Levin • Manny Armstrong • Mutant Pumpkins • P'andor • Prisoner 775 • Ra'ad • Retaliator • Sir George • Technorg • The Great One's Worshipers (Leader Alien, Enforcer Alien, Interpreter Alien) • Thomas Jingles • Vance Vetteroy • Victor Validus • Winston • Yeti • Zed
Generator Rex Villains
Alpha • Biowulf • Black Knight • Skalamander • I-Bol
The Secret Saturdays Villains
V.V. Argost • Munya
Future & Alternate Villains
Crooks • Dr. Animo • Exo-Skull • Gorvan • Kevin 11,000 • Mot Snikrep • Sploot • Vilgax