Wildmutt
Talk

19
3,403
pages on Ben 10 Planet
Wildmutt is the Codon Stream's DNA sample of a Vulpimancer from the planet Vulpin.
Appearance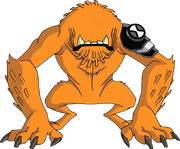 Wildmutt appears to be a big, orange dog with no eyes or tail. His teeth are very defined and stick out of his mouth. Wildmutt has no eyes, instead using his sense of smell and hearing in vision's place, which are aided by three nostrils located on each side of his neck.
In the original series, Wildmutt wore a brace with the Omnitrix symbol on his left shoulder.
In Ultimate Alien, Wildmutt wears the Ultimatrix symbol on his chest and has orange lips rather than black, also he appears with lighter fur, however he has black lips in the Ultimate Alien Intro.
In Omniverse, 16 year old Wildmutt has black lips, and he now has a green neck brace. The Omnitrix symbol is on his "collar". 11-year old Wildmutt looks exactly the same as the original. In the Omniverse intro, he appeared to have two shoulder braces, but it was stated by Derrick Wyatt that it was an animation error and it will be fixed.
Powers and Abilities
Wildmutt possesses high agility that makes him able to run, jump and climb on objects at high velocity.
Wildmutt has incredible sense of smell. He's able to track people from their scent, even if they are many miles away.
Wildmutt has enhanced strength, strong enough to rip a car roof off.
Wildmutt possesses sharp claws.
While Wildmutt is normally quadrupedal, he can stand on his hind legs and brandish his front paws into fists to punch.
Wildmutt has the ability to shoot quills from his back, like a porcupine myth, but this has been unseen.
Weaknesses
Wildmutt can't talk, instead, he communicates through a combination of barking and snarling, due to this, it is extremely hard to understand him.
When Wildmutt has a cold, the triple nostrils on his neck get blocked by mucus, making him blind. Also, his fur color seems to "decrease" from its vivid orange to a pale yellow tone.
Wildmutt's senses are very sensitive, making him vulnerable to anything that can overwhelm his senses such as a high pitched sound or a strong smell.
In the Ben 10,000 Timeline future, Wildmutt has grown larger. He also has stripes on his back and has sprouted a tail. His appearance has shifted to a more feline form.
Wildmutt wears the Omnitrix symbol on his forehead.
Ben 10
Ultimate Alien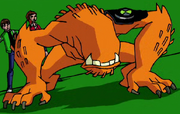 Appearances
Video Games
Wildmutt is a playable character in the game.
Naming and Translations
Language
Name
Origin
Portuguese
Besta
From besta, beast.
Bulgarian
Див Пес
From див/div, wild and пес/pes mutt.
Burmese
Tiger Monkey
Croatian
Psina
From psina, mutt.
Dutch
Stomkop/Wildmutt
From stomkop, mute head
German
Das Biest
From das biest, the beast.
Italian
Bestiale
From bestiale, bestial.
Polish
Dzikipysk
From dziki, wild and pysk, mouth.
Swedish
Vilden
From vilden, savage.
Serbian
Џукац/Džukac
From џукац/džukac, tike.
Spanish
Bestia/Feral
From bestia, beast and fiero, wild.
Türkçe
Yaban Köpek
From yaban, wild and köpek, dog.
Hungarian
Vadorzó
From vadorzó, poacher.
French
Sauvage
Savage
Hebrew
פרא
From פרא, wild
Russian
Дикий пёс
Космический пёс
From дикий пёс, wild dog
From космический пёс, cosmic dog
Greek
Αγριόσκυλο
From 'Άγριο, wild and Σκυλί, dog
Trivia
See Also