The Vilgax Actor is a Human actor contacted by Albedo to play the role of Vilgax in "Ben 10 Live".
Appearance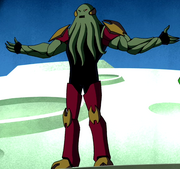 His costume is like a fusion between the first appearance of Vilgax and his cybernetic form, with gold shoulder pads, red sleeves, black gloves and torso, and red eyes.
Under the mask, he is blonde, with brown eyes.
Appearances
Ben 10: Ultimate Alien
Ad blocker interference detected!
Wikia is a free-to-use site that makes money from advertising. We have a modified experience for viewers using ad blockers

Wikia is not accessible if you've made further modifications. Remove the custom ad blocker rule(s) and the page will load as expected.