The Vilgax Actor is a Human actor contacted by Albedo to play the role of Vilgax in "Ben 10 Live".
Appearance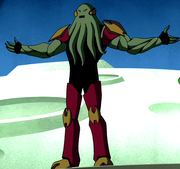 This actor uses a costume as when he meets Ben in the dressing room he has removed the head of Vilgax and below is Human. His costume is like a fusion between the first appearance of Vilgax and his cybernetic form, with gold shoulder pads, red sleeves, black gloves and torso, and red eyes.
Appearances
Ben 10: Ultimate Alien
Trivia
Ad blocker interference detected!
Wikia is a free-to-use site that makes money from advertising. We have a modified experience for viewers using ad blockers

Wikia is not accessible if you've made further modifications. Remove the custom ad blocker rule(s) and the page will load as expected.