Vilgax's Sword is a weapon used by Vilgax.
Use
Vilgax's Sword is a sword that can project energy beams and coat its blade in flames, or crystals able to refract energy blasts such as Chromastone's.
Even without the flames or crystal, this sword is incredibly sharp, able to easily cut though stone, Chromastone's body, and even an entire space ship with a single stroke.
History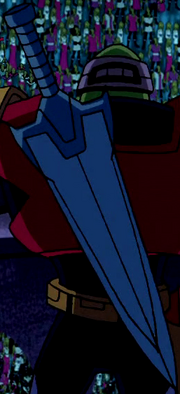 Alien Force
Vilgax lost the sword in The Final Battle: Part 2 after transforming into his "true form".
Ultimate Alien
Vilgax's Sword, along with his other weapons, returns in The Ultimate Enemy: Part 2, when he returns to his normal form. How his armor and weapons returned at that moment is unknown.
Omniverse
Vilgax used his sword against No Watch Ben in And Then There Were None.
In Malgax Attacks, Vilgax, thanks to the Malware Armor, was able to create enhanced versions of his sword.
See Also
Ad blocker interference detected!
Wikia is a free-to-use site that makes money from advertising. We have a modified experience for viewers using ad blockers

Wikia is not accessible if you've made further modifications. Remove the custom ad blocker rule(s) and the page will load as expected.