This article is a stub. You can help by editing it.
Game Only: This article belongs to games of the franchise and is non-canon to the main continuity.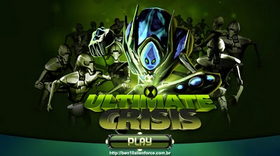 Ultimate Crisis is a game on the Cartoon Network website where you unleash the powers of Ultimate Swampfire to battle Aggregor and his army of robots in a 3D brawler. There are 13 levels which unlocks another one of Ultimate Swampfire's combos but the game only ends after Ultimate Swampfire's health comes to zero.
Trivia
This game revealed that Aggregor was going to appear.
It is the first game to have an Ultimate form in it.
You cannot jump, turn into Ben, or turn into any other alien at all.