Game Only: This article belongs to games of the franchise and is non-canon to the main continuity.

Thornhounds are a species of plant-like aliens featured in Ben 10: Protector of Earth.
Appearance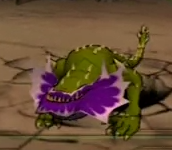 Thornhounds are plant-based aliens with a dog-like appearance, having four legs, no visible eyes, a long tail, and a body covered with thorns, hence their name.
More mature Thornhounds, such as Thornhound Aggressors, have more pronounced thorns and a large frill extending from their mouths.