The Return
3,407
pages on Ben 10 Planet
Talk

0
The Return is the thirty-seventh episode of Ben 10.
Plot
A shuttle launch at NASA is interrupted by a purple lightning storm. This attracts the attention of
Ben
,
Gwen
and
Grandpa Max
, who hope to discover the origin of the alien werewolf and mummy. While at NASA, Ben runs into an ill-tempered scientist called by the name of
Dr. Viktor
.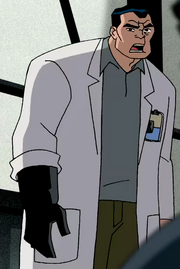 Surveillance tapes associate him with the purple lightning storm, and he's quickly shown to be in cahoots with the two creatures. Ben, Gwen and Grandpa Max encounter the creatures again, in addition to Doctor Viktor in his true form. Ben uses
Snare-oh
for the first time to fight the alien werewolf. Following a losing battle, the Tennysons split up: Max and Gwen board the space shuttle that Doctor Viktor launches and Ben follows Viktor as
XLR8
. The mummy's onboard the space shuttle, and Viktor sends the werewolf to New Mexico in a flash of purple lightning through use of a teleportation device. But as Ben confronts Dr. Viktor, the scientist reveals that he is not carrying out his own plan. Viktor revives his master, who, to Ben's horror, is revealed to be
Zs'Skayr
.
Major Events
Omnitrix Alien Debut
Characters
Villains
Aliens Used
Spells Used
Errors
In the beginning when the prison on the Rust Bucket were crushing a car between them, the car was gray. When the car began to spin out of control, it became red.
In one scene when Ben was battling the Yenaldooshi, the green stripe below the Omnitrix was gone.
When Snare-oh was walking towards the hole in the wall, the Omnitrix was gone.
Naming and Translations
| Language | Name | Origin |
| --- | --- | --- |
| Hungarian | A visszatérés | The Return |
| Portuguese (BR) | O Retorno | The Return |
| Spanish (HA) | El Regreso | The Return |
| Spanish (Spain) | El Retorno | The Return |
Trivia
The Tennyson's 36th stop is Cape Canaveral.
The villains from this episode are all alien versions of popular monster-movie tropes: a mummy, a werewolf, Frankenstein's monster, and a ghost.