The Final Battle: Part 2 is the forty-sixth episode of Ben 10: Alien Force.
Plot
Starting from where the previous episode left off, Ben has given Vilgax the Omnitrix and Vilgax commands his Bioids to attack Ben and the team. Then, Max arrives and shoots Vilgax's bioids. Gwen and Kevin join the fight, as does Negative Ultimate Humungousaur. Max gives Gwen her spellbook and She teleports Ben and the team away. Negative Ultimate Humungousaur wants to follow the team, but Vilgax doesn't. Negative Ultimate Humungousaur demands the Omnitrix so that he could destroy it, but Vilgax refuses and puts it on. He says that he has connected it to his bioids, and that each of them transforms when he activates it. He transforms them into Humungousaurs. The Humungousaurs attack Negative Ultimate Humungousaur. He fights, but is defeated and transforms back into Albedo. Meanwhile, the team watches on a Plumber security camera in the Rust Bucket. Ben is depressed, having lost the Omnitrix. They drive through a forest. Ben tells Max to stop the Rust Bucket and he runs into the forest. Max tells Gwen and Kevin to leave Ben alone for a while. 
Gwen disagrees with Max and follows Ben into the forest. She offers him his jacket, but he discards it. Gwen tries to convince Ben that he doesn't need the Omnitrix to be a hero, but he doesn't believe her. She leaves and Ben calls for
Azmuth
to help him. Azmuth then appears and tells him that he found the Omnitrix by accident, and that he once believed Ben worthy of it, but Ben lost his trust when he tried to hack it. He tells Ben that it isn't easy to win without the Omnitrix. Ben also repeatedly blames himself for his failure because Vilgax has the Omnitrix. Azmuth explains to him that he might be powerless without the Omnitrix, but that doesn't mean he isn't a hero without it. This gives Ben an idea, and he heads back to the Rustbucket. On
Vilgax's ship
, Albedo is held prisoner and then Gwen teleports the group onto the ship. Vilgax introduces to them the ability to transform his Bioids and brings out his bioids and they surround the team. Vilgax transforms them into
Diamondhead
,
Lodestar
, and
Spidermonkey
and says that the one he showed them were "a few of the hundred thousands I have". Ben commands Vilgax to give him the Omnitrix, but Vilgax refuses and commands his Bioids to attack and they surround the group, so Ben activates Self Destruct to the Omnitrix in Voice Command. Vilgax says that he is bluffing and transforms his Bioids into
Swampfire
. The Omnitrix self-destructs, sending Vilgax flying into a wall. Ben runs to Vilgax to gather the Omnitrix's remains.
Ben gets an idea about the Omnitrix, but is interrupted when Kevin gets a bad headache and transforms back into his original human form, Gwen and Max point out that he is normal again. Max said that it was the Omnitrix that kept him in his mutated form, but since it is destroyed, he is normal. Happy, Gwen and Kevin kiss for the first time. Ben says that they didn't have to ruin the moment, to which Gwen points out "Victory Kiss!". Enraged, Vilgax gets up and attacks Ben. Kevin absorbs the ship and fights Vilgax, but Vilgax begins to overload his collision drive and aims it to crash on
Bellwood
. Gwen realizes that the explosion will destroy everything within 100 miles. Gwen, Max and Kevin attack Vilgax while Ben runs to the chained Albedo and asks him to surrender the Omnitrix. Albedo corrects him with "
Ultimatrix
". Ben says that they could have a deal; Albedo should surrender him the Ultimatrix and he will release him. Albedo asks what is in it for him. Ben frees Albedo and then commands the Ultimatrix to self-destruct. Albedo gives it to him quickly and Ben deactivates the self-destruct. Meanwhile, Vilgax was about to defeat Max, Kevin and Gwen, when he is hit by a fireball.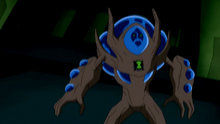 It is revealed that Ben has transformed
Swampfire
, who had put on the Ultimatrix. Swampfire instructs Gwen and Grandpa Max to steer the ship away from Bellwood. Then, he commands Kevin to stay and get his back and they both fight Vilgax. Vilgax then fights them both and easily knocks out Kevin. He then punches Swampfire sending him flying at a machine. Swampfire gets up, presses the Ultimatrix, and transforms into
Ultimate Swampfire
, announcing his battle cry. Vilgax charges at Ultimate Swampfire, but he blasts him with Blue Fire. Meanwhile, Gwen and Max are trying to steer the ship. Max points out that they are too fast to turn around, so he suggests to angle away from the city, to ditch in the ocean. Ultimate Swampfire fights Vilgax and slightly has the Upper Hand.
Jetray
flies out of the water and transforms back into Ben in their shield. They all hug happily. Gwen asks what happened to Vilgax. Ben says that he didn't see him get out, but he's survived worse and if he does, "It's hero time".
Noteworthy Events
Major Events
Kevin returns to his human form which resulted from the Omnitrix self-destruction, and has regained his absorbing powers.
Ben obtains the Ultimatrix.
Vilgax's true form is revealed.
Vilgax is left underwater while the ship exploded, leaving his fate unknown.
Gwen and Kevin share their first kiss.
Ultimatrix Debuts
Characters
Villains
Aliens Used
By Ben
By Albedo
By Vilgax's Bioids
Spells Used
Quotes

Azmuth: You are a fool.
Ben: You don't hear me arguing.




Ben: Omnitrix, command function override, code ten.
Omnitrix: Override accepted. Voice command activated.
Vilgax: What are you...?
Ben: Omnitrix, self-destruct in thirty seconds, command code zero, zero, zero, destruct, zero.
Omnitrix: Destruct sequence completed and engaged. Detonation in T minus thirty seconds.
Vilgax: If the Omnitrix self-destructs, it will destroy the entire universe.
Ben: It would if I let the charge build up for a few days, but I'm only giving it thirty seconds.
Omnitrix: Detonation in T minus twenty seconds.
Ben: My bad. Twenty seconds. Take off the Omnitrix or it's gonna blow!
Vilgax: You're bluffing. (makes the Bioids transform into Swampfire)
Bioids: SWAMPFIRE! (marches towards Ben)
Vilgax: Destroy him!(the Bioids prepare to attack)
Omnitrix: Detonation in T minus ten seconds. (the Bioids look at the Omnitrix as it continues counting down) Five... four... three... two... one... (Self-destructs, sending Vilgax flying into a wall)
Kevin: (as Ben runs towards Vilgax, puts his hands on the sides of his head) Aaaaaaaaahhhhh!!!... (falls to the ground)
Gwen: Kevin!
(as Gwen and Grandpa Max crouch down next to Kevin, Ben runs to Vilgax and picks up the remains of the Omnitrix)




Kevin: I've got a headache like you wouldn't belie- (Ben, Max, and Gwen smile at him)
Kevin: What?
Gwen: You're human again.(Kevin looks at himself)
Grandpa Max: It must've been the Omnitrix that was keeping you in that form. Once it was destroyed...
Kevin: I'm normal?
Gwen: Let me show you... (they kiss)
Grandpa Max: (smiles)
Ben: It was a nice little moment. Why'd they have to do that?
Gwen: Victory kiss.




(Vilgax punches Ben as Swampfire and sends him flying into a machine)
Vilgax: You're losing, Tennyson!
Swampfire: Maybe so, but the new rig comes with some extras. (Transforms into Ultimate Swampfire) Ultimate Swampfire!! (Vilgax charges at him, but he blasts Vilgax back) What'ya say, Vilgy? Round 2?




Vilgax: Fire's not so useful now that we're in my element!
Ultimate Swampfire: A sinking ship is your element? That explains sooo much.




Ben: I'm going to let you go, but I'll be taking your Omnitrix.
Albedo: Ultimatrix.
Ben: Whatever. Do we have a deal?
Albedo: What's in it for me?
Ben: I don't have time for this. (Ben frees Albedo) Command Function Override Code ten.
Ultimatrix: Override accepted.
Ben: Hey! What do you know? It recognizes my voice.
Albedo: Wait! What are you doing?
Ben: Omnitrix Self-Destruct in thirty Seconds: Command code: zero, zero, zero, destruct, zero.
Ultimatrix: Destruct sequence completed and engaged. Detonation in T minus thirty seconds.
Albedo: You're bluffing.
Ben: (holds the destroyed Omnitrix) Ask Vilgax if I'm bluffing.
Albedo: (looks at the destroyed Omnitrix and gives the Ultimatrix to Ben)
Ben: (Ben puts the Ultimatrix on his wrist) I like the old one better.
Albedo: Um...
Ben: Oh, Abort Self Destruct, Code ten.
Ultimatrix: Self-destruct sequence aborted.




Gwen: What happened to Vilgax?
Ben: I didn't see him get out, but he's survived worse.
Kevin: He could come back.
Ben: If he ever does, it's hero time.




Max: We're going too fast to turn around but we can angle away from the city and ditch in the ocean!
Gwen: Where's the ocean?
Max: Aim at the blue part!




Gwen: (looks at Swampfire) Green eyes? Ben?
Vilgax: Tennyson!
Swampfire: Miss me?



Naming and Translations
| Language | Name | Origin |
| --- | --- | --- |
| French | La bataille finale, 2e partie | The final battle, 2nd part |
| Hungarian | A végső harc, Második rész | The Ultimate Battle, Part 2 |
| Portuguese (Br) | A Batalha Final, 2ª Parte | The Final Battle, 2nd Part |
| Spanish (HA) | La Batalla Final: Parte 2 | The Final Battle: Part 2 |
| Spanish (Spain) | La Batalla Final: Parte 2 | The Final Battle: Part 2 |
Allusions