This article is a stub. You can help by editing it.
Game Only: This article belongs to games of the franchise and is non-canon to the main continuity.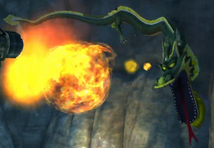 The Terracotta Dragon is a boss in Ben 10 Ultimate Alien: Cosmic Destruction. It protects one part of the Ancient Artifact. It is found in a cave inside the Great Wall of China. It can shoot fire out of his mouth and breathes green gas.
Its vocal effects were provided by Fred Tatasciore.