Solid Plugg
Talk

2
2,888
pages on Ben 10 Planet
Solid Plugg is a character in Ben 10: Omniverse.
Personality
Solid Plugg appears to be very loyal to his boss, Professor Blarney T. Hokestar. He also seems to be a little dull, as he couldn't hide the fact that he knew his boss when asked to do otherwise.
He appears to have a crush on Fistina.
Appearance
Solid Plugg is a short alien with thick, purple skin and a rock-like reptilian appearance. He has three fingers on each hand, and two toes on each foot. He has red eyes and a large chin. He normally wears a lavender and gold vest. Though small and squat, his compact body is heavily muscled.
History
Basically, Solid Plugg is a small-time criminal and freelance enforcer. He is normally seen with Hokestar, but has also worked for other criminals such as Argit and Psyphon.
Powers and Abilities
Solid Plugg's main ability seems to be his enhanced strength. He is very strong for his size, as he was able to pull six Plumbers trying to restrain him.
He also has high resistance to electricity, as he was able to not only withstand AmpFibian's electricity blasts, but also retaliate immediately.
Weaknesses
Aside from the fact that he is slow-witted, his smaller size is a disadvantage against larger opponents. Normally his strength and tenacity can compensate for this.
Omniverse Appearances
Appearances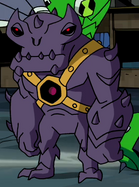 Ben 10: Omniverse
Trivia
Solid Plugg is similar to Precious Pupp, Griswald from Top Cat, Muttley from Wacky Races, Dastardly and Muttley in their Flying Machines, Yogi's Treasure Hunt, Fender Bender 500, and Yo, Yogi!, and Mumbly from Laff-A-Lympics. All characters have the wheezing laugh. Also, Solid, Muttley, and Mumbly mutter when they're offended.
See Also
Ben 10 Characters
Main Characters
Ben Tennyson | Gwen Tennyson | Kevin Levin | Max Tennyson | Rook Blonko
Supporting Characters
Julie Yamamoto | Plumbers | Jimmy Jones | The Galvan (Azmuth, Retaliator, Galvan Teacher) | Professor Paradox | Ship | Eunice | Zed
Other Allies
Petrosapiens (Tetrax Shard, Sugilite) | Gluto | Galactic Enforcers | The Highbreed (Reinrassic III) | Myaxx | Xylene | Colonel Rozum | SECT (Lieutenant Steel) | Ignatius | Technorg | Hector | Elsgood | Sheriff Mason | Kai Green | Ishiyama | Tennyson Family | Levin Family | Rook Family | Ester | Gourmands | Lewodans (Tiffin, Sicily) | Rad Dudesman
Former Allies
Albedo | Elena Validus | Phil | Forever Knights (Squire, Connor, Sir Cyrus, Patrick, Sir Driscoll) | Vilgax | Michael Morningstar | Sunny | Antonio | Cash Murray | J.T. | Oliver Thompson | Zaw-Veenull | Probity | Viktoria
Deceased Supporting Characters and Allies
Devin Levin | Magister Labrid | Magister Prior Gilhil | Pierce | Sir George | Winston | Victor Validus | Kwarrel | The Sentinel |
Prisoners of Aggregor
Bivalvan | Galapagus | P'andor | Andreas | Ra'ad
Frienemies
Hope | Hope's Stone Creatures | Argit | Baz-El | Simian | Vreedle Brothers (Octagon Vreedle, Rhomboid Vreedle) | Blarney T. Hokestar | Raff | Serena | Bellicus | Mr. Baumann | Pakmar | Mazuma | Solid Plugg
Generator Rex Heroes
Rex Salazar | Bobo Haha | Agent Six | Rebecca Holiday | White Knight | Caesar Salazar
The Secret Saturdays Heroes
Zak Saturday | Doc Saturday | Drew Saturday | Fiskerton Saturday | Komodo | Zon
Future & Alternate Heroes
Ben 10,000 (Ultimate Alien) | Ben's Team (Alternate Timeline) (Ben 10,000 (Ben 10), Gwendolyn Tennyson (Alternate Timeline), Ken 10, Devlin Levin, Max Tennyson (Alternate Timeline), Kenny's Stone Pet) | Ben's Team (Dimension 23) (Ben 23 | Tetrax Shard (Dimension 23) | Sevenseven (Dimension 23) | Azmuth (Dimension 23)) | Ben Tennyson (RAT Timeline) | Gwen Tennyson (RAT Timeline) | Max Tennyson (RAT Timeline) | Plumbers (RAT Timeline) | Ben Tennyson (Gwen 10 Timeline) | Gwen 10 | Max 10 |
Ben 10 Villains
Main Villains
Albedo • Aggregor • Diagon • Incursean Empire • Forever Knights • Khyber • Malware • The Rooters • Vilgax • Zs'Skayr
Secondary Villains
Aloysius Animo • DNAliens • Elena Validus • Eon • Flame Keepers' Circle (Conduit Edwards, Esoterica) • Hex • Kane North • Lucubra • Michael Morningstar • Negative 10 • Psyphon • The Sotoraggian Mercenaries (Sixsix, Sevenseven, Eighteight, Twotwo) • Vulkanus • Will Harangue • Xenocyte • Zs'Skayr's Minions (Dr. Viktor, Mummy, Yenaldooshi, Crüjo, Kuphulu)
Minor Villains
Adwaita • Aggregor's Soldiers • Animo's Creations • Billy Billions • Carl Nesmith • Circus Freak Trio • Clancy • Computron • Computron's Minions • Evil Way Big • Fistrick's Gang (Fistrick, Corvo, Hoodlum, Unnamed Thug) • Gorvan • Jennifer Nocturne • Kraab • Ma Vreedle • Nanochips • Nyancy Chan • Palorfang • Pickaxe Aliens • Psyphon's Gang • R.E.D. • Rojo and her gang • Sublimino • Seebik • Slix Vigma • Squires • Ssserpent • Sunder • Sunny • Techadon Robots • Trumbipulor • Violet Offenders • Vilgax's Drones • Zombozo
One-Time Villains
Camille's Ex-Boyfriend • Captain Kork • Coach Finn • Collectimus • Garbage Monster • Highbreed Tree Monster • Howell Wayneright • Hulex (Hulex Colonel, Hulex Workers) • Jarrett • Kolar • Mayor Coleman • Mechaneers • Mizaru • Morgg • Mr. Mann • Mrs. Mann • Mutant Seagulls • Mycelium • Lord Transyl • Plant Alien • Plant Clones • Paltroon • Ragnarok • Red Robot • Road Crew • S.A.M. • Synthroid • Squid Monsters• The Decoy Queen • The Great One • Zombie Clown
Frenemies
Argit • Baz-El • Bellicus • Blarney T. Hokestar • Fistina • Hope • Hope's Stone Creatures • Mazuma • Mr. Baumann • Null Guardians • Pakmar • Raff • Serena • Simian • Solid Plugg • Vreedle Brothers (Octagon Vreedle, Rhomboid Vreedle)
Former Villains
Bivalvan • Cash • Dragon • Decka • Devlin Levin • Eon's Servants • Ester • Freed Ultimate Versions • Helen Wheels • Highbreed (Reinrassic III, Highbreed Commander, Highbreed Councilors) • J.T. • Kenko • Kevin Levin • Manny Armstrong • Mutant Pumpkins • P'andor • Prisoner 775 • Ra'ad • Retaliator • Sir George • Technorg • The Great One's Worshipers (Leader Alien, Enforcer Alien, Interpreter Alien) • Thomas Jingles • Vance Vetteroy • Victor Validus • Winston • Yeti • Zed
Generator Rex Villains
Alpha • Biowulf • Black Knight • Skalamander • I-Bol
The Secret Saturdays Villains
V.V. Argost • Munya
Future & Alternate Villains
Crooks • Dr. Animo • Exo-Skull • Gorvan • Kevin 11,000 • Mot Snikrep • Sploot • Vilgax