Sixsix
Talk

3
2,888
pages on Ben 10 Planet

Sixsix is a genetically mutated Sotoraggian from the planet Sotoragg.
Personality
Sixsix speaks in his own language (although he uttered Myaxx's name in Ben 10: Secret of the Omnitrix). He hates Tetrax and attacks him relentlessly and without mercy.
Appearance
In his armor, his feet are hooved. He has purple pads covering his central joints, an alien like belt, and four central lines to provide outlines for his face, which are his eyes and mouth. When his black and pink mask is broken, it reveals an ugly, mutant, gray-yellow creature with pink and gray robotic eyes and four arms. He is somewhat similar to a predator from the Alien vs. Predator franchise, as most predators wear masks to hide their faces.
In Omniverse, his appearance hasn't changed much. his jumpsuit is now a much more reddish color, with the black highlights now a dark blue, and the silver armor plating has a blue tint to them too. Most of his pouches are smaller and the ones on his shoulders are no longer sunken in.
Original Series
Sixsix first appeared in the episode Hunted, where he along with his rivals Tetrax and Kraab were to take the Omnitrix from Ben and give it to Vilgax for the reward, but he and Kraab defeated by Grey Matter.
Secret of the Omnitrix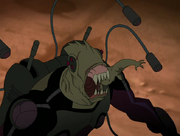 In Ben 10: Secret of the Omnitrix, Sixsix was a prisoner on Incarcecon, then became Vilgax's helper. His mask was broken completely, revealing that Sixsix is an ugly, mutant-like, light gray creature with robotic eyes. Sixsix was defeated by a great source of feedback from the Omnitrix.
Omniverse
Powers and Abilities
Sixsix has purple armor that has pouches which contains weapons like machine guns, little guns, twin blasters, laser discs, buzz saws, an energy chainsaw, a laser blade, a laser gun, a whip, a sonic weapon, grenades, rockets and some mounted laser guns coming out of his jetpack. He has a radar that can track the
Omnitrix
when it is activated. He also has little arms that are used to throw the pikes and grenades when using his blasters.
Appearances
Ben 10
Ben 10: Omniverse
Trivia
References
See Also
Ben 10 Villains
Main Villains
Albedo • Aggregor • Diagon • Incursean Empire • Forever Knights • Khyber • Malware • The Rooters • Vilgax • Zs'Skayr
Secondary Villains
Aloysius Animo • DNAliens • Elena Validus • Eon • Flame Keepers' Circle (Conduit Edwards, Esoterica) • Hex • Kane North • Lucubra • Michael Morningstar • Negative 10 • Psyphon • The Sotoraggian Mercenaries (Sixsix, Sevenseven, Eighteight, Twotwo) • Vulkanus • Will Harangue • Xenocyte • Zs'Skayr's Minions (Dr. Viktor, Mummy, Yenaldooshi, Crüjo, Kuphulu)
Minor Villains
Adwaita • Aggregor's Soldiers • Animo's Creations • Billy Billions • Carl Nesmith • Circus Freak Trio • Clancy • Computron • Computron's Minions • Evil Way Big • Fistrick's Gang (Fistrick, Corvo, Hoodlum, Unnamed Thug) • Gorvan • Jennifer Nocturne • Kraab • Ma Vreedle • Nanochips • Nyancy Chan • Palorfang • Pickaxe Aliens • Psyphon's Gang • R.E.D. • Rojo and her gang • Sublimino • Seebik • Slix Vigma • Squires • Ssserpent • Sunder • Sunny • Techadon Robots • Trumbipulor • Violet Offenders • Vilgax's Drones • Zombozo
One-Time Villains
Camille's Ex-Boyfriend • Captain Kork • Coach Finn • Collectimus • Garbage Monster • Highbreed Tree Monster • Howell Wayneright • Hulex (Hulex Colonel, Hulex Workers) • Jarrett • Kolar • Mayor Coleman • Mechaneers • Mizaru • Morgg • Mr. Mann • Mrs. Mann • Mutant Seagulls • Mycelium • Lord Transyl • Plant Alien • Plant Clones • Paltroon • Ragnarok • Red Robot • Road Crew • S.A.M. • Synthroid • Squid Monsters• The Decoy Queen • The Great One • Zombie Clown
Frenemies
Argit • Baz-El • Bellicus • Blarney T. Hokestar • Fistina • Hope • Hope's Stone Creatures • Mazuma • Mr. Baumann • Null Guardians • Pakmar • Raff • Serena • Simian • Solid Plugg • Vreedle Brothers (Octagon Vreedle, Rhomboid Vreedle)
Former Villains
Bivalvan • Cash • Dragon • Decka • Devlin Levin • Eon's Servants • Ester • Freed Ultimate Versions • Helen Wheels • Highbreed (Reinrassic III, Highbreed Commander, Highbreed Councilors) • J.T. • Kenko • Kevin Levin • Manny Armstrong • Mutant Pumpkins • P'andor • Prisoner 775 • Ra'ad • Retaliator • Sir George • Technorg • The Great One's Worshipers (Leader Alien, Enforcer Alien, Interpreter Alien) • Thomas Jingles • Vance Vetteroy • Victor Validus • Winston • Yeti • Zed
Generator Rex Villains
Alpha • Biowulf • Black Knight • Skalamander • I-Bol
The Secret Saturdays Villains
V.V. Argost • Munya
Future & Alternate Villains
Crooks • Dr. Animo • Exo-Skull • Gorvan • Kevin 11,000 • Mot Snikrep • Sploot • Vilgax