Screegit are a rare and endangered alien species protected by law.
Appearance
Screegits have a round brown colored-body with a smile on their face. They have a row of black spikes running down their back and multiple limbs.
When exposed to nitrogen, they become huge monsters that spit acid from their mouth and start to grow extra limbs and have jagged teeth.
Powers and Abilities
In their standard form they have very little powers other than producing milk. However, in a nitrogen rich environment, their growth becomes uncontrolled. They spit corrosive acid and become very resistant to blunt force and fire.
History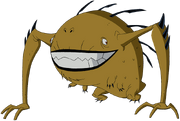 Screegits are not only rare and cute but also dangerous. For this reason, the Plumbers confiscated the Screegit after they and Rook took notice of the creature on Earth, which has nitrogen rich in its atmosphere, making them destructive to lives and property.
Trivia
Because of their nature, they cannot be in an atmospheric environment filled with nitrogen without proper shielding.
In Collect This, there is a toy version of a Screegit.
Ad blocker interference detected!
Wikia is a free-to-use site that makes money from advertising. We have a modified experience for viewers using ad blockers

Wikia is not accessible if you've made further modifications. Remove the custom ad blocker rule(s) and the page will load as expected.