Rocks is the Omnitrix's DNA sample of a Basalt from the planet Andesite and is from the Asian play Power of the Omnitrix.
Appearance
He appears to be a yellow, crystalline rock monster. He wears the Omnitrix on his chest.
Powers and Abilities
Rocks' home planet may be a dangerous place for humans to like, but the Basalt race is very skilled at adapting to their environment.
He has enhanced strength and can manipulate earthquakes.
Weaknesses
Rocks is cumbersome and not very fast or agile. Water is dangerous to him as over time, it erodes his body and weakens his strength.
Like all Basalts, Rocks cannot swim. In fact, in water, Rocks sinks like a stone.
Appearances
Plays
Toys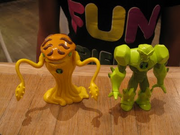 Etymology
His name is literally rocks, referring to him being made of stone.
Trivia
Rocks has never appeared in any canon media.
According to Derrick J. Wyatt, Rocks, along with Squidstrictor, are in the Omnitrix, and they have been used by Ben off-screen.[1]
References