Game Only: This article belongs to games of the franchise and is non-canon to the main continuity.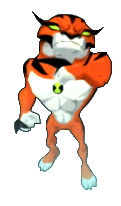 The Rath Nano is a mini version of Rath with special powers to support the hero in the game FusionFall. It came in-game on September 14, 2011 with the AmpFibian Nano and the Van Kleiss Nano.
Appearance
The Rath Nano is basically a smaller scale version of Rath.
Trivia
When the player reaches Mt. Neverest and go close enough to the Rath Nano (after all but the last mission) they will notice that Rath is not hiding his Omnitrix/Ultimatrix Symbol on his chest. His symbol is hidden under his chin.
He is the first Ben 10 nano to be gained without having to defeat a fusion.