Game Only
The characters and/or events depicted in this article pertain to games of the Ben 10 franchise.
Non-Canon
The characters and/or events depicted in this article are non-canon to the main series' continuity.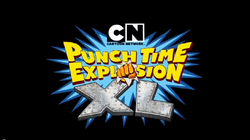 Punch Time Explosion XL is a video game involving most Cartoon Network characters in an epic brawl. It was released on November 15, 2011 for the Wii, Xbox 360, and PlayStation 3. It is not a sequel to Punch Time Explosion. Also in the XL version, there will be a shop where the player can buy playable characters, arenas, alternate costumes, and TV show clips.
Plot
It's the same plot as the 3DS version, but more detailed and with slight changes.
Characters
Playable Characters
NPC
Synergy Assistants
Fred Fredburger/Ben Tennyson
Coco/Vilgax
Numbuh 4/Kevin Levin
Schnitzel/Young Ben
Gwen Tennyson/Blossom
Vreedle Brothers/Mojo Jojo
Levels
Power Ups
Weapons
Costumes
Color
Red Jacket, White Hair (Albedo Costume)
Yellow Jacket
Negative Form
Outfit
Colors
Blue/Green Color
Negative Form
Outfits
Color
Red T-shirt/Blonde Hair
Blue T-shirt/Brown Hair
Negative Form
Outfit
Mutant Kevin (Alien Force)
Colors
Albedo Look
Negative Form
Outfit
TV Clips
This clip shows how Ben became a Galactic Enforcer
This clip shows how Kevin became a mutant again
This clip shows Vilgax reveling his true form
Errors/Glitches
When the Ultimatrix detects a dimensional disturbance, the rim around it is square instead of circular.
The Announcer calls Ben "Ben TenTenyson" sometimes at the character selection.
When playing as Young Ben, if XLR8 hit an edge (like the rocket on the KND C.O.O.L.B.U.S), he would fly off screen.
Ben's eyes seem wider than usual throughout the story's cutscenes.
The Ultimatrix is replaced with the Omnitrix from Alien Force in some cutscenes, like the final boss cutscene.
Trivia
Kevin is one of the new playable characters.
Young Ben is one of the new playable characters.
When 10-year old Ben turns into Cannonbolt for one of his standard attacks, it shows the Alien Force/Ultimate Alien Cannonbolt design.
The aliens used by 10-year old Ben are the same ones that can be played as in Protector of Earth.
Mr. Smoothy, Burger Boy and a Pizza Shop billboards are seen in the Bellwood Fight Level
It is revealed that Richard from Payaya Studios favorite synergy attack is Ben and Fred Fredburger's
Gallery
See Also
Ad blocker interference detected!
Wikia is a free-to-use site that makes money from advertising. We have a modified experience for viewers using ad blockers

Wikia is not accessible if you've made further modifications. Remove the custom ad blocker rule(s) and the page will load as expected.