Ad blocker interference detected!
Wikia is a free-to-use site that makes money from advertising. We have a modified experience for viewers using ad blockers

Wikia is not accessible if you've made further modifications. Remove the custom ad blocker rule(s) and the page will load as expected.
The Proto-TRUK was Rook's spaceship. As shown in A Jolt from the Past, it can transform into a small truck with "Max's Plumbing" written on it in order to camouflage itself among Earth vehicles.
In Rules of Engagement, Jury Rigg used parts of the Proto-TRUK to build the Tenn-Speed.
In Let's Do the Time War Again, it was destroyed, and its parts were used by UpRigg to create Ben and Rook's Time Cycles.
Features
Gravitor Boosters
Detrovite Nav-System
Quil-Tech Nanoshift Transformer
Faster-Than-Light (FTL) Drive
Prisoner Holding Cell
Tri-Barrel Blaster Turret
Switchable Steering Wheel
Auto-Pilot Mode
Appearances
Ben 10: Omniverse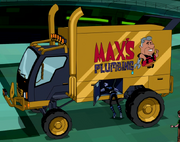 Naming and Translations
| Language | Name | Origin |
| --- | --- | --- |
| Spanish (HA) | Proto-CAMIÓN | From camión, truck |
Trivia