The Proto-TRUK was Rook's spaceship. As shown in A Jolt from the Past, it can transform into a small truck with "Max's Plumbing" written on it in order to camouflage itself among Earth vehicles.
In Rules of Engagement, Jury Rigg used parts of the Proto-TRUK to build the Tenn-Speed.
In Let's Do the Time War Again, it was destroyed, and its parts were used by UpRigg to create Ben and Rook's Time Cycles.
Features
Gravitor Boosters
Detrovite Nav-System
Quil-Tech Nanoshift Transformer
Faster-Than-Light (FTL) Drive
Prisoner Holding Cell
Tri-Barrel Blaster Turret
Switchable Steering Wheel
Auto-Pilot Mode
Appearances
Ben 10: Omniverse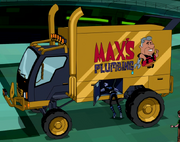 Naming and Translations
| Language | Name | Origin |
| --- | --- | --- |
| Spanish (HA) | Proto-CAMIÓN | From camión, truck |
Trivia
Ad blocker interference detected!
Wikia is a free-to-use site that makes money from advertising. We have a modified experience for viewers using ad blockers

Wikia is not accessible if you've made further modifications. Remove the custom ad blocker rule(s) and the page will load as expected.