The Plumber Snake is an unbreakable pan-dimensional retrieval system. It's basically a long cable that can be attached to something before sending it into the inescapable Null Void.
To retrieve whatever individual was sent in, the cable can be reeled. It also costs a lot of money.
Appearances
Ben 10: Alien Force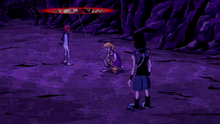 Ben 10: Omniverse
Trivia
A more compact, portable variation of the Plumber Snake was originally to appear in Ben 10: Destroy All Aliens by chaining Ben and Gwen together when the two messed with it.
Ad blocker interference detected!
Wikia is a free-to-use site that makes money from advertising. We have a modified experience for viewers using ad blockers

Wikia is not accessible if you've made further modifications. Remove the custom ad blocker rule(s) and the page will load as expected.