Omnivoracious were a bird-like predatory species from the planet Galvan Prime. The Omnivoracious were the natural predators of the Galvan before their extinction due to a meteor and subsequent climate change on Galvan Prime.
Appearance
The Omnivoracious were a tall, purple prehistoric emu-like species. They had a long, sharp toothed beak and four eyes.
History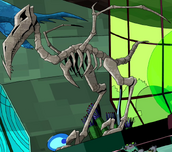 The Omnivoracious were once the dominant species on
Galvan Prime
, but a meteor struck the planet and destroyed most members of the Omnivoracious.
Surviving Omnivoracious continued to roam, but died due to the following change in climate on Galvan Prime millions of years ago, eventually leaving the Galvan the dominant species.
Diet
The Omnivoracious preyed on Galvans and other native inhabitants of Galvan Prime.
Powers and Abilities
The Omnivoracious were fast runners.
The Omnivoracious possessed sharp claws and beak.
Notable Omnivoracious
Etymology
Omnivoracious comes from the prefix omni-, meaning all, and voracious, meaning driven to consume large amounts of food. This means Omnivoracious roughly translates to "driven to eat anything".
Trivia
Ad blocker interference detected!
Wikia is a free-to-use site that makes money from advertising. We have a modified experience for viewers using ad blockers

Wikia is not accessible if you've made further modifications. Remove the custom ad blocker rule(s) and the page will load as expected.