Omnitrix Unleashed is a Ben 10 game on the Cartoon Network website. This is also a badge game (a game you can play in order to win badges on the website).
Controls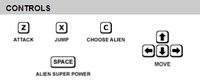 Use the arrow keys to move and select an alien. Use the space bar to use your alien super power. Press X to jump, Z to attack and C to choose your alien.
Gameplay
Basically, use your aliens' powers to defeat the Negative 10. You can collect extra lives, health tokens and energy tokens as you go along. However Ben gets a nasty electric shock ever time he gets attacked.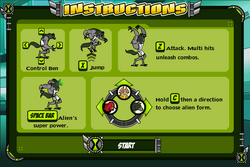 Playable Aliens
Bosses
Trivia
See Also