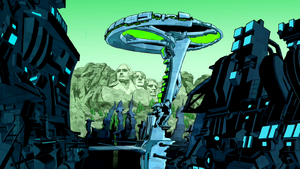 Omnitrix City is the city in which Ben 10,000 operates in the future first appearing in Ben 10,000. It is on Earth, near Mt. Rushmore.
History
As seen in Ben 10,000, its population consists of both humans and aliens. One of its landmark buildings is the Ben 10,000 Tower. It also contains a large statue of Ben 10,000.
Notable Inhabitants
Appearances
Ben 10
Ben 10: Ultimate Alien
Ben 10: Omniverse
See Also
Ad blocker interference detected!
Wikia is a free-to-use site that makes money from advertising. We have a modified experience for viewers using ad blockers

Wikia is not accessible if you've made further modifications. Remove the custom ad blocker rule(s) and the page will load as expected.