Of Predators and Prey: Part 1

General Information

Original broadcast
November 10, 2012
Series
Ben 10: Omniverse

Details

Season
1
Episode number
9
Overall number
159

Credits

Written by
Kevin Rubio
Directed by
Christopher Berkeley

Episode Guide

Previous episode
Hot Stretch
Next episode
Of Predators and Prey: Part 2
Of Predators and Prey: Part 1 is the ninth episode of Ben 10: Omniverse.
Plot
The episode begins in the middle of the same flashback as The More Things Change: Part 1, in which Malware defeats Four Arms when he deactivates and drains the original Omnitrix.
Five years later, Ben and Rook are playing a Sumo Slammers video game, until Crabdozer comes out through the wall. Ben tries to transform into Humungousaur, but transforms into Stinkfly instead. Stinkfly spits goo on Crabdozer's legs, sticking them to the floor. Crabdozer transforms into Buglizard and breathes gas onto the goo, causing it to melt away. Buglizard grabs Stinkfly and throws him around, while Rook shoots the predator. The Omnitrix times out and Stinkfly transforms back into Ben and he is covered in saliva. Ben tries to transform into Humungousaur again, but transforms into Wildmutt instead. Wildmutt attacks Buglizard and they end up fighting in the parking lot. Khyber, watching over the battle from a close by building, whistles and causes Wildmutt to be stunned by the noise and to transform back into normal.
They then head over to the Plumbers base, where Max is trying to recapture an alien scorpion-like thing. Rook helps Max, and Max reveals that the alien was for a meal he was cooking, and gives some to Rook. Ben tells Max about Khyber's Pet, who is hunting him. Max asks Ben what he thinks they should do. Ben tries to tell Max an idea that Rook told him earlier, but can't talk due to having food in his mouth.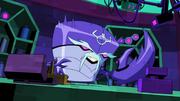 Later, Ben and Rook head to 
Undertown
to find Khyber's pet. After Rook checks someone to be Khyber's pet in disguise, Ben and Rook have a fight over what they should do. Then Rook decides to leave, leaving Ben with his hoodie, hoverboard, and his broken Plumbers badge (after Rook broke it, saying that he doesn't deserve one).
In a flashback, Malware is heading up to the lab of Dr. Psychobos to talk about a device he could create. However, he doesn't have the DNA samples to make it work.
Ben finds Pakmar and learns that Pakmar has made a pet store. Ben asks him to bring dog whistles so Ben can try it. Ben transforms into Wildmutt again as Pakmar tests some whistles.
Ben is then attacked by Khyber's pet, then Khyber himself. After the
Omnitrix
recharges, Ben transforms into
Crashhopper
to battle. Khyber's pet then transforms into
Mucilator
and falls on Crashhopper, so Crashhopper transforms into
Armodrillo
and throws Mucilator. Mucilator then transforms into
Slamworm
and goes underground and attacks Armodrillo. Armadillo transforms into
Heatblast
through slamming the Omnitrix. Heatblast then chases after Khyber by flying in the air via propulsion, but has a surprise attack by
Crabdozer
. Heatblast tries to transform into Humungousaur through slamming the Omnitrix just as it begins to time out, but he transforms into
Ball Weevil
instead. At first Ball Weevil doesn't know how to use his powers, but then spits a ball and rolls around uncontrollably before seeing that the ball can explode. Crabdozer encounters Ball Weevil and transforms into
Terroranchula
. Ball Weevil eventually flees through climbing a pipe that leads into the surface, but Khyber defeats him by redirecting one of his balls. The Omnitrix times out, causing Ball Weevil to transform back into Ben. Ben falls down saying "No." Khyber then picks up Ben and says "Yes." and laughs evilly. 
Noteworthy Events
Major Events
Dr. Psychobos makes his debut, and it's revealed that he hired Khyber to collect Omnitrix DNA samples for Malware.
Ball Weevil gets unlocked and makes his first appearance.
Terroranchula makes her first appearance.
The origin of the Nemetrix is revealed.
Stinkfly makes his Omniverse debut by 16-year-old Ben.
Ben and Rook have their first argument with each other.
Character Debuts
Omnitrix Aliens Debuts
Nemetrix Aliens Debut
Minor Events
Rook tells Ben that he never saved the world by himself, since he always had help.
Characters
Villains
Aliens Used
By 11 year old Ben
By 16 year old Ben
By Zed
Quotes

Ben: (to Rook) You wanna start something? Is that what this is about?
Rook: No, I'm going to end something!




Ben: I don't think we've been properly introduced. I'm Ben Tennyson, the kid who's about to kick your sorry butt. And you are?
Khyber: The last thing you'll ever see.




Khyber: So, any last words?
Ben: (looks at Omnitrix, which has recharged) How about "bye-bye"! (transforms into Crashhopper and jumps)




Heatblast: I defeated Vilgax the conqueror, Diagon the destroyer, what makes you think you're any better?
Khyber: Experience. (Crabdozer attacks Heatblast)



| | | |
| --- | --- | --- |
| | Ball Weevil: What's the matter, can't finish what you started? | |

Heatblast: Come on new Omnitrix. Would it kill you if you give me Humungousaur just this once? (transforms to Ball Weevil)
Ball Weevil: Whoa! This is a new one. Uh, ah...What can I do? I gotta have something going for me other than the power of cuteness.
Khyber: (Laughs) Far too easy.



| | | |
| --- | --- | --- |
| | Khyber: Fight back all you want. There is a predator for every kind of prey. | |
Naming and Translations
| Language | Name | Origin |
| --- | --- | --- |
| Hungarian | Ragadozók és zsákmányaik, Első rész | Predators and Their Preys, Part 1 |
| Polish | Drapieżniki I Ofiary Cz.1 | Predators And Victims Part 1 |
| Portuguese (Br) | Predadores e Presas, 1ª Parte | Predators and Preys, 1st Part |
| Spanish (HA) | Depredadores y Presa, Primera Parte | Predators and Prey, First Part |
| Spanish (Spain) | Presa y Depredador, Parte 1 | Prey and Predator, Part 1 |
Allusions
Ad blocker interference detected!
Wikia is a free-to-use site that makes money from advertising. We have a modified experience for viewers using ad blockers

Wikia is not accessible if you've made further modifications. Remove the custom ad blocker rule(s) and the page will load as expected.