The Mutant Squirrels are common Earth squirrels, which were mutated by Dr. Animo in Animo Crackers.
Appearance
They have scales on their backs and legs. They are much larger than the average squirrel. They have a horn on their skull and their tail is rat-like with a poof on the end and their paws have sharp claws.
Appearances
Ben 10: Omniverse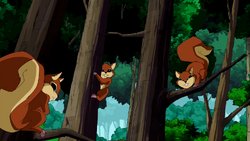 Ad blocker interference detected!
Wikia is a free-to-use site that makes money from advertising. We have a modified experience for viewers using ad blockers

Wikia is not accessible if you've made further modifications. Remove the custom ad blocker rule(s) and the page will load as expected.