Ad blocker interference detected!
Wikia is a free-to-use site that makes money from advertising. We have a modified experience for viewers using ad blockers

Wikia is not accessible if you've made further modifications. Remove the custom ad blocker rule(s) and the page will load as expected.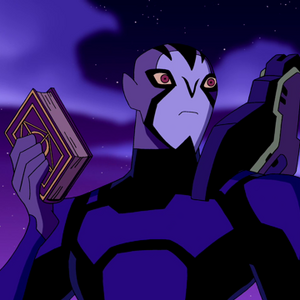 When a retailer has multiple web sites around the world, one link will be provided for each product to their U.S. site. People interested in buying from a site outside the U.S. will need to go to those sites and search for the products themselves.
MSRP = Manufacturer's Suggested Retail Price. Individual retailers may offer a product at a lower price. Prices given in U.S. Dollars except when a product is not available in the United States. To see a price in a different currency, use the currency converter.
Story Books
Episodes adapted to a book.

Ben 10
Ben 10: Alien Force
Chapter Books
Books Featuring Original storylines.
Ben 10: Alien Force
Book
Title
Description
MSRP ($US)
Retailers

Ben's Knightmare
When Kevin's love for alien-tech turns Ben's girlfriend into a lizard. Ben and Kevin need to get help from the Forever Knights to change Julie back to normal or it's lizard girlfriend forever!
$3.99
Amazon.com

War of the worlds
Chapter book one is based on the season 2 finale of the hit show, "War of the Worlds." The alien invasion is here at last—and it's up to Ben to save the earth.
$5.99
Amazon.com

Triple threat
Plumbers' helpers Manny, Helen, and Pierce have always been a little envious of the respect Grandpa Max shows to Ben, Gwen, and Kevin. Now they're determined to prove they can be just as successful as the three teens. Which team will be first to deactivate an alien spy transmitter? The race is on!
$3.99
Amazon.com

The Dark of Knight
Ben's longtime enemies, the Forever Knights, have uncovered a highly unusual artifact - one that can strip Ben of all his powers. Ben, Gwen and Kevin are determined to investigate. After all, they can't let it fall into the wrong hands. Their quest leads them to the Forever King, a bold new leader with a terrifying vision. Can the three teens stop him? Or are they falling straight into a trap?
$4.99
Amazon.com

Double Negative
Ben's been acting a little funny lately. Suddenly, he's acing all his math and physics tests, and he's a little too his chili-cheese fries. Gwen and Kevin don't think much of it until they catch him sneaking around Plumber's headquarters at night.


Turns out an impostor has taken Ben's place, an it's none other than Albedo. Albedo has tried to steal the Omnitrix before and failed. But this time is different. Someone powerful is backing him. And if Albedo knows what happened to the real Ben and the real Omnitrix, he's not telling....

$4.99
Unavailable
Ben 10: Ultimate Alien
| Book | Title | Description | MSRP ($US) | Retailers |
| --- | --- | --- | --- | --- |
| | Galaxy Wars | When Cooper hacks into what he thinks is an alien video game, he actually starts an inter-galactic war between two peace-loving planets. One of the aliens comes to Ben requesting his help. So Ben, Gwen, and Kevin take to space to try to stop the war. Unfortunately, neither side is willing to listen to reason. So Ben and his friends race to trick the two leaders into talking together before one of the sides deploys a weapon that can't be stopped. In the end, Cooper saves the day by transporting himself across space using alien technology and stopping the ultimate weapon's countdown. | $4.99 | Amazon.com |
| | Chill for a Day | When Ben gets stuck in an Ultimate Alien form, chaos breaks loose! When Ben as the Ultimate Big Chill decides to take on a mysterious alien alone one night, the alien throws chemicals at him and gets away. The Ultimate Big Chill tries to transform back into Ben, but he can't-he's stuck! With a looming chemistry test and a strange alien to catch, Ben can't take a day off. He has to go to school in alien form to take his test and look for the alien between classes. Luckily, the alien turns out to be a good guy who just needed a sample of Earth water and Ben is able to change back by using some other chemicals! | $4.99 | Unavailable |
| | Science Friction | Cooper drags Ben, Gwen, and Kevin Kevin to the annual Sci-Fi convention, a big attraction for comic book geeks everywhere. No one, except Cooper, is that excited about it until a movie prop turns out to be real alien tech and spews out an army of mini-aliens! Ben has to change forms rapidly to try to stop the little aliens while Kevin and Cooper work to trun the machine off. They manage to save the convention and the crowd just thinks the whole thing was a movie promotion! | $3.99 | Amazon.com |
Comic Books
See: Ben 10 Comics
Magazines
Ben 10: Legacy