Magister Maxwell "Max" Tennyson or Grandpa Max as his grandchildren call him, is the paternal grandfather of Ben, Gwen, and Ken, as well as the father of Carl Tennyson and Frank Tennyson. He is a fairly overweight man in his late 50's, with a keen sense for adventure and a strange taste in food. Max ends up taking the kids on a summer vacations' road trip across the United States. Much to Ben's annoyance, Ben discovers that Gwen is joining them. Max travels in a motor home nicknamed the Rust Bucket, which he has modified with advanced technology.
Max is a semi-retired legendary Magister rank Plumber and is the mentor of Ben, Gwen, Kevin, and the Plumbers' Helpers. According to Azmuth, Max is widely considered the greatest Plumber in the Milky Way Galaxy. Max is currently Magister of Earth.
Appearance
In the original series, Max wears a white shirt, covered by a red button up Hawaiian shirt with a floral design. He has grey hair and blue pants, as well as black shoes.
After being turned into a ten year old in Don't Drink the Water, Max can be seen wearing Ben's regular clothes, a black-striped, white shirt with short sleeves, military green cargo pants and black and white sneakers with black stripes. His hair is also similar to a crew cut, and rather than fat, Max looks skinny and athletic.
As Ultra Grandpa in Perfect Day, he has a stereotypical superhero costume. He wears frameless blue goggles, a cyan shirt and white pants. He also dons a white cape like Ultra Ben.
In Alien Force and Ultimate Alien, Max's appearance did not change except for his blue pants being changed to brown, he has more wrinkles, a slightly darker shirt, and whiter hair.
In Alien Swarm, Max wears a blue Hawaiian shirt instead of a red one.
In Omniverse, Max's appearance has not changed that much except for his brown pants, which are now white. He has whiter hair, more wrinkles, and his eyes have been changed to little black dashes. His white shirt that he wore under his red button up shirt has changed to black. Also, his shoes are now grey at the top and black at the bottom. Both 61 and 66 year old Max have this appearance.
History
Background
Not many details are provided on Max's childhood and background. In Permanent Retirement, Max's older sister, Vera Tennyson is introduced; she is seen as having her own weird taste in food, and is hinted as having knowledge that aliens are real. In Big Fat Alien Wedding, Max's older brother, Gordon Tennyson is introduced; in the events of the episode Gordon is also a Plumber, still on active duty, as is his wife, Betty Jean Tennyson, and their son, Joel Tennyson.
Max spent his childhood summers on his Uncle Jedediah's farm, where he learned about the merits of hard work.[1]
Max, under the effects of Zombozo's happiness-draining, mentions having been afraid of heights as a kid and to beat his fear he climbed up to the top of the water tower and "scared the fear" right out of him.[2]
Max has a childhood friend called Donovan GrandSmith, seen in They Lurk Below, who says that Max always worried and was never a risk-taker like him. 30 years earlier, Donovan and Max had both been broke when Donovan offered Max a business opportunity, which he turned down. Max later became a Plumber (most people thought Max was just a regular plumber), establishing that Max's career as a Plumber lasted for about 28 years before he retired (Max mentioned that after 28 years on the job, he'd never figured out who was behind the Bermuda Triangle).
Max was an astronaut and would have been the first man on the moon, but he left the program before the Apollo Moon mission. In his own words, Max said he just 'took his step for mankind in other ways'. It is later revealed that he did in fact go into space, just not with NASA.[3]
It is unknown if Max's strange taste in food was acquired from his adventures to other planets during his career as a Plumber, or if its root can be found in his childhood.
Max met Verdona when she was held captive by a Synthroid (a species of robotic aliens) that wants to use her Anodite powers as fuel for their planet. Max saved Verdona and Magister Labrid, the latter of whom recruited him as a Plumber. [4]
Ben 10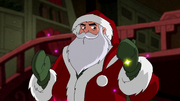 Grandpa Max is a Plumber, who takes his grandchildren Ben and Gwen on a cross-country trip, during which Ben discovers an alien watch, the Omnitrix. His grandson uses the watch to become the superhero "Ben 10". Max helps his grandson fight bad guys and aliens, and he also teaches Ben to use the watch responsibly.
During their adventures, Gwen and Ben question Max's uncanny knowledge, and the fact he doesn't seem to be bothered by all the weirdness they encounter. It is eventually revealed that Max and the alien warlord Vilgax are old enemies.
In the episode Truth, Max reveals he is part of an intergalactic police force known as the Plumbers, and that he fought and defeated Vilgax years before. During the episode he meets his old partner Phil Billings. He discovers Phil stole the Null Void Projector, using it to make easy money, by freeing the aliens who the Plumbers had already captured, then fighting and catching them for profit.
In the episode Perfect Day, Max was given superpowers by Ultra Ben in Ben's dream. As Ultra Grandpa he had enhanced strength and was able to fly.
In the episode The Visitor, it is revealed the Omnitrix was originally sent to Max by the alien Xylene (who was Max's old flame) and accidentally ended up in the possession of his grandson, Ben.
Max has a strange taste for food throughout the series. 
Alien Force
Ultimate Alien
Omniverse
Powers and Abilities
Although Max doesn't have any super powers, he is very skilled in combat and can take on anyone who does have them as he is quite athletic for someone of his age. As a retired Plumber, he has access to a variety of various Plumber tools and weaponry, which he uses skillfully. Aside from that, his experience from his Plumber days made him knowledgeable on various species of aliens. He is also able to strategize well and is skilled in inventing new machines. He is telepathically connected to his lover, Verdona.[4]
Before joining the Plumbers, Max was a United States Air Force pilot, with dreams of joining NASA and going to the moon. He was an expert at flying an F-104 Starfighter and was able to shoot down an alien spacecraft.[4]
Appearances
Ben 10
Ben 10 Shorts
Ben 10: Alien Force
Ben 10: Ultimate Alien
Specials
Ben 10: Omniverse
Comics
Cartoon Network Action Packs
Ole!
Fast Lane
Snow Blind
Fear Itself
A Villain a Day
Techno Zombies
Barbershop Blues
Blast from the Past
Nemesis
The Height of Heat
Space Camp and Beyond
Alien Data Files: Wildmutt
Greasy Lightning
Alien Data Files: Heatblast
Alien Data Files: Four Arms
Swimming with Sharks
Monkey Business
Alien Data Files: XLR8
Eggs with Legs
Intergalactic Spazz Club
Aqua Nut
Sonic Boom
Pleasant Dreams
Alien Data Files: Upgrade
Captured!
The Once and Future Ben
Special Defects
Alien Data Files: Diamondhead
Mountains of Trouble
Alien Data Files: Ripjaws
Dora Flora
Alien Data Files: Stinkfly
Old Friends
Powerless
Chapter Books
Triple Threat
Galaxy Wars
Video Games

Max helps Ben in his travel around the country. He was captured by Kevin 11 and had to be rescued by Ben. He accesses to Plumber base in Mt. Rushmore and later defeats Zs'Skayr with a sun gun.
Max helps Ben and his gang to destroy the Null Void power source. He joins the gang after the level Mor' Otesi. He appears in holograms on Plumber Badges, in the beginning and ending of each level. He battles the Null Void monsters on Earth.
Max is a non-playable character. He gets captured by Dr. Animo and gets rescued by 11 year old Ben and Rook.
Love Interests
During Xylene's early years, she met Max Tennyson, who at the time was a Plumber. She wanted Max to go to Ringa Morr with her, but Max declined it
Trivia
According to Xylene and Azmuth, Max was supposed to get the Omnitrix, but when Ben found it, his DNA was close enough to Max's that it attached itself to his wrist instead.
Max was a Magister for at least 5 years.
In the beta version of the original series, Max originally wasn't a Plumber, he was just an average inventor.
In Dimension 23, Max died before the Omnitrix reached Earth, leaving Ben 23 with no mentor or moral support until Azmuth 23 takes up that position.
Max's cooking is a running gag throughout the franchise as most humans, (especially Ben, Gwen, and Kevin) find the cuisine to be disgusting, while aliens, (Rook, Xylene, and others) can't get enough of it. 
Characters wearing shirts identical to Max's appear throughout the series as a running gag.
According to Derrick J. Wyatt, Max loses his arm in the Limax War, which happens in the future.[6]
Verdona stated that Max was similar to Kevin when he was Kevin's age; an example being in Moonstruck with young Max saying "Hey! Watch the paint job!" and "My ride!", both of which have been said by Kevin.
Max Tennyson made an appearance in the fifth episode of the sixth season of Robot Chicken, "Hurtled from a Helicopter into a Speeding Train".
References
See Also
Ad blocker interference detected!
Wikia is a free-to-use site that makes money from advertising. We have a modified experience for viewers using ad blockers

Wikia is not accessible if you've made further modifications. Remove the custom ad blocker rule(s) and the page will load as expected.