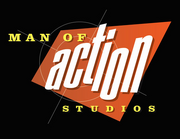 Man of Action is a group consisting of Duncan Rouleau, Joe Casey, Joe Kelly, Steven T. Seagle.
They are the creators of the Ben 10 series. They've also created Generator Rex as well as written episodes of Ultimate Spiderman and Avengers Assemble.
For Ben 10: Alien Force, Ben 10: Ultimate Alien, and Ben 10: Omniverse Man of Action were no longer involved. Ben 10 was taken over by new management, Dwayne McDuffie and Glen Murakami, and later by Matt Youngberg.
Man of Action return as the executive producers of the rebooted series Ben 10.
See Also
Ad blocker interference detected!
Wikia is a free-to-use site that makes money from advertising. We have a modified experience for viewers using ad blockers

Wikia is not accessible if you've made further modifications. Remove the custom ad blocker rule(s) and the page will load as expected.