Liam
Talk

4
2,888
pages on Ben 10 Planet
Liam
General Information
Species
Unknown
Affiliations
Psyphon
Occupation(s)
Villain
Powers and Abilities
Abilities
Sharp Claws
Sharp Talons
Enhanced Strength
Enhanced Agility
Enhanced Reflexes
Relationships
Alias
Chicken Little (by Ben)
Bird-Brain (by Psyphon)
Details
Voice Actor
Paul Eiding
First Appearance
The More Things Change: Part 1
Liam
is a villain in
Omniverse
.
Appearance
Liam's appearance is very chicken-like, having feathers and a beak. He also has two bandoliers connecting together on his chest. As seen in The More Things Change: Part 1 he clucks like a real chicken. His upper half is beige, the lower half is brown, has orange feet-like hands and sticking out of his head on the top as well as his bottom are red feathers.
Powers and Abilities
Liam has shown the ability to extract spurs from his elbows. He has enhanced strength and agility.
Weaknesses
Liam is easily distracted, even from battle, by bird food, as seen in The More Things Change: Part 1, making him an easy target.
Omniverse
Appearances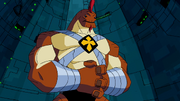 Ben 10: Omniverse
Trivia
Liam's DNA was scanned to unlock Kickin Hawk.
Liam tends to make chicken noises when he fights or eats food, similar to how Kickin Hawk makes bird sounds.
See Also
Ben 10 Villains
Main Villains
Albedo • Aggregor • Diagon • Incursean Empire • Forever Knights • Khyber • Malware • The Rooters • Vilgax • Zs'Skayr
Secondary Villains
Aloysius Animo • DNAliens • Elena Validus • Eon • Flame Keepers' Circle (Conduit Edwards, Esoterica) • Hex • Kane North • Lucubra • Michael Morningstar • Negative 10 • Psyphon • The Sotoraggian Mercenaries (Sixsix, Sevenseven, Eighteight, Twotwo) • Vulkanus • Will Harangue • Xenocyte • Zs'Skayr's Minions (Dr. Viktor, Mummy, Yenaldooshi, Crüjo, Kuphulu)
Minor Villains
Adwaita • Aggregor's Soldiers • Animo's Creations • Billy Billions • Carl Nesmith • Circus Freak Trio • Clancy • Computron • Computron's Minions • Evil Way Big • Fistrick's Gang (Fistrick, Corvo, Hoodlum, Unnamed Thug) • Gorvan • Jennifer Nocturne • Kraab • Ma Vreedle • Nanochips • Nyancy Chan • Palorfang • Pickaxe Aliens • Psyphon's Gang • R.E.D. • Rojo and her gang • Sublimino • Seebik • Slix Vigma • Squires • Ssserpent • Sunder • Sunny • Techadon Robots • Trumbipulor • Violet Offenders • Vilgax's Drones • Zombozo
One-Time Villains
Camille's Ex-Boyfriend • Captain Kork • Coach Finn • Collectimus • Garbage Monster • Highbreed Tree Monster • Howell Wayneright • Hulex (Hulex Colonel, Hulex Workers) • Jarrett • Kolar • Mayor Coleman • Mechaneers • Mizaru • Morgg • Mr. Mann • Mrs. Mann • Mutant Seagulls • Mycelium • Lord Transyl • Plant Alien • Plant Clones • Paltroon • Ragnarok • Red Robot • Road Crew • S.A.M. • Synthroid • Squid Monsters• The Decoy Queen • The Great One • Zombie Clown
Frenemies
Argit • Baz-El • Bellicus • Blarney T. Hokestar • Fistina • Hope • Hope's Stone Creatures • Mazuma • Mr. Baumann • Null Guardians • Pakmar • Raff • Serena • Simian • Solid Plugg • Vreedle Brothers (Octagon Vreedle, Rhomboid Vreedle)
Former Villains
Bivalvan • Cash • Dragon • Decka • Devlin Levin • Eon's Servants • Ester • Freed Ultimate Versions • Helen Wheels • Highbreed (Reinrassic III, Highbreed Commander, Highbreed Councilors) • J.T. • Kenko • Kevin Levin • Manny Armstrong • Mutant Pumpkins • P'andor • Prisoner 775 • Ra'ad • Retaliator • Sir George • Technorg • The Great One's Worshipers (Leader Alien, Enforcer Alien, Interpreter Alien) • Thomas Jingles • Vance Vetteroy • Victor Validus • Winston • Yeti • Zed
Generator Rex Villains
Alpha • Biowulf • Black Knight • Skalamander • I-Bol
The Secret Saturdays Villains
V.V. Argost • Munya
Future & Alternate Villains
Crooks • Dr. Animo • Exo-Skull • Gorvan • Kevin 11,000 • Mot Snikrep • Sploot • Vilgax