Komodo Saturday is a companion of the Secret Saturdays. He is a genetically altered Komodo Dragon from the planet Earth.
Appearance
His appearance is a typical Komodo Dragon.
Powers and Abilities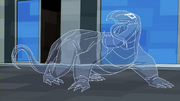 As a Komodo Dragon he possesses a strong jaw which he can use to bite and his altered DNA gives him the ability to turn invisible.
Appearances
Ben 10: Omniverse
Trivia
Komodo has the same genetic code that chameleons share. The genetic differences also allow Komodo to have a stronger durability, longer life spans, and a stronger tolerance to natural defenses.
Ad blocker interference detected!
Wikia is a free-to-use site that makes money from advertising. We have a modified experience for viewers using ad blockers

Wikia is not accessible if you've made further modifications. Remove the custom ad blocker rule(s) and the page will load as expected.