Joel Tennyson is Max's nephew and a member of the Plumbers.
History
Background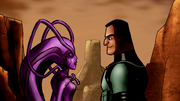 Joel fought in a war between the Plumbers and the Lenopans. During the conflict, he met and developed a relationship with a Lenopan named Camille, and they became engaged, in hopes of reaching a truce between the two sides.
Ben 10
In Big Fat Alien Wedding, Joel prepares for the wedding. While the ceremony did not go as well as planned due to Camille's parents, the marriage was made successfully.
Appearances
Ben 10
See Also
Ad blocker interference detected!
Wikia is a free-to-use site that makes money from advertising. We have a modified experience for viewers using ad blockers

Wikia is not accessible if you've made further modifications. Remove the custom ad blocker rule(s) and the page will load as expected.