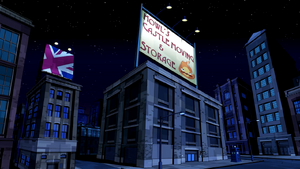 Howl's Castle Moving and Storage is a building located in London 
History
Ben, Rook, and Kai were investigating for clues whether Wes was there. It was here that Ben renamed Benwolf to Blitzwolfer after a short argument with Kai.
Appearance
Its outside has grey and white bricks and it resembles a more city-like version of Howl's Moving Castle. It also has a mascot on the sign similar to the fire demon, Calcifer from the movie, Howl's Moving Castle  and the sign says Howl's Castle Moving and Storage in a red bold font. The inside is a cramp, dark room filled with many boxes, rugs, everyday house-items, etc.
Appearances
Allusions
See Also
Ad blocker interference detected!
Wikia is a free-to-use site that makes money from advertising. We have a modified experience for viewers using ad blockers

Wikia is not accessible if you've made further modifications. Remove the custom ad blocker rule(s) and the page will load as expected.