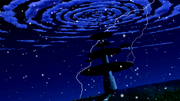 The Highbreed Weather Array is a collection of Highbreed Weather Towers. The towers, when activated, will change the weather.
History
The Highbreed planned to freeze sections of Earth to make it inhabitable only by the Highbreed due to their intoleration of heat. Their first appearance is in Everybody Talks About the Weather, when Alan and Ben, Gwen, and Kevin work together to destroy the tower.
Video Games
In Ben 10 Alien Force, the Highbreed Weather Array is the 8th and last level when you have to be Humungousaur because of the size of the towers.
Appearances
Ben 10: Alien Force
See Also
Ad blocker interference detected!
Wikia is a free-to-use site that makes money from advertising. We have a modified experience for viewers using ad blockers

Wikia is not accessible if you've made further modifications. Remove the custom ad blocker rule(s) and the page will load as expected.