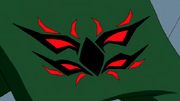 The
Highbreed Supreme
is the leader of all
Highbreed
.
History
As time goes on, one Highbreed is elected to become the Highbreed Supreme. The previous Highbreed supreme appears in War of the Worlds: Part 2. The previous Highbreed Supreme and the Highbreed Councilors are a lot larger than the normal Highbreed.
After Ben alters the DNA of all Highbreed, the former Supreme passes the title of Highbreed Supreme on to Reinrassic III. As the new Highbreed Supreme, Reinrassic calls off the Highbreed War and orders all Highbreed to return home.
See Also
Ad blocker interference detected!
Wikia is a free-to-use site that makes money from advertising. We have a modified experience for viewers using ad blockers

Wikia is not accessible if you've made further modifications. Remove the custom ad blocker rule(s) and the page will load as expected.