Haley Ramm
3,407
pages on Ben 10 Planet
Talk

0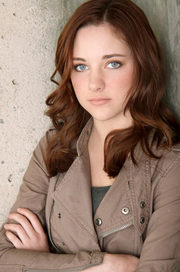 Haley Michelle Ramm (born March 26, 1992) is an American actress. She played a young Jean Grey in X-Men: The Last Stand and appeared in multiple episodes of the CBS drama Without a Trace throughout 2007 and 2008. She played Gwen Tennyson in Ben 10: Race Against Time.
Acting career
In 2005, she acted in the movie Seventy-8 as April Rowlands. The movie premiered at the Hollywood Film Festival.
Ramm moved to Los Angeles at age 11 with her mother; her dad and brother stayed behind in Texas for the first few years. Ramm was called for roles in Flightplan and the comedy Yours, Mine and Ours, and on television shows such as CSI: Crime Scene Investigation, CSI: Miami and Yes, Dear.
In 2006, she appeared in X-Men: The Last Stand as the young Jean Grey. In 2007, Ramm starred in the movie Mr. Blue Sky as Jessica Green, alongside Ashley Wolfe and Richard Karn. Next, she starred as Samantha Jensen in Walking Tall: Lone Justice, alongside Kevin Sorbo and Yvette Nipar. Her most recent projects include the lead role of Gwen Tennyson in the live action film adaptation of the animated series Ben 10, known as Ben 10: Race Against Time, and a recurring role on CBS's hit series Without a Trace alongside Emmy-winning actor Anthony LaPaglia and Poppy Montgomery.
In 2007, she appeared as the young Carine in Sean Penn's film Into the Wild. Ramm has the lead role in the French horror film Rubber as Fiona, which was directed by Quentin Dupieux.
Haley was cast as a young Jennifer Aniston in Rumor Has It..., and while her scenes did not make the final cut, she can be seen in various photos throughout the film.
She appeared with her real-life best friend Miranda Cosgrove in the 2005 film Yours, Mine and Ours and again in a 2009 episode of iCarly. Ramm currently serves as a StarPower Ambassador for Starlight Children's Foundation, encouraging other young people to commit their time, energy and resources to help other kids and working with Starlight to brighten the lives of seriously ill children.