Gwen's spellbook, or her Grimoire, as she refers to it in Couples Retreat, is a purple and gold miniature spellbook which previously belonged to Charmcaster. It was first seen in A Change of Face. Gwen kept it as a souvenir, something that Charmcaster still hates her for. It was revealed in It's Not Easy Being Gwen that Gwen brings her spellbook to school.
Spells
Eerie Expectiom
Gallius Disruptus
Keymocha Objectia
Mulcha Objectia
Vadera Expectitiom Perpetuon
Appearances
Ben 10
Ben 10: Alien Force
Ben 10: Ultimate Alien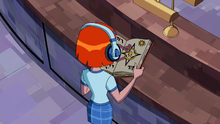 Ben 10: Omniverse
Video Games
Cosmic Destruction
The book was seen in Ben 10 Ultimate Alien: Cosmic Destruction, Gwen used it to send Cooper home with the spell Meven Aweg.
Trivia