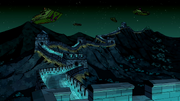 The Great Wall of China is a location in Asia.
Appearance
The setting is situate on the Great Wall. The Wall looks like a bridge with trees and bushes. However, there are ancient villages full of underground stone warriors and fans and doors and generators needing electricity. Vines cover doors and drains. There are volcanic caves with shafts.
Bosses
Trivia
Gallery
Sumo Slammer Card Locations
Ad blocker interference detected!
Wikia is a free-to-use site that makes money from advertising. We have a modified experience for viewers using ad blockers

Wikia is not accessible if you've made further modifications. Remove the custom ad blocker rule(s) and the page will load as expected.