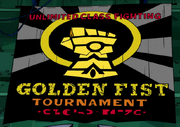 The 222nd Annual Golden Fist Unlimited Class Fighting Tournament is an illegal tournament held in Undertown. It was hosted by Slix Vigma and it took place in No Honor Among Bros. The tournament focuses on hand-to-hand combat and the winner will receive 60,000 Taydens and the Golden Fist.
Known Participants
Known Viewers
Ad blocker interference detected!
Wikia is a free-to-use site that makes money from advertising. We have a modified experience for viewers using ad blockers

Wikia is not accessible if you've made further modifications. Remove the custom ad blocker rule(s) and the page will load as expected.