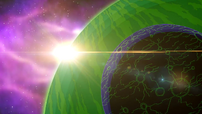 Galvan
is a sun with at least one planet and moon orbiting it,
Galvan Prime
and
Galvan B
, which are the only confirmed planets/moons in this solar system.
The Galvan and Galvanic Mechamorphs are the only known species currently living in this solar system. Omnivoracious lived on Galvan Prime until they became extinct.
Known Planets/Moons In This Solar System
Known Species In This Solar System
Etymology
The name Galvan is a play of galvanization.
Ad blocker interference detected!
Wikia is a free-to-use site that makes money from advertising. We have a modified experience for viewers using ad blockers

Wikia is not accessible if you've made further modifications. Remove the custom ad blocker rule(s) and the page will load as expected.