This article belongs to the Reboot Continuity.
Freaky Gwen Ben is the fourth episode of Ben 10.
Plot
The episode starts at a flea market, where Max gives Ben and Gwen $ 10. Ben and Gwen decide to collect their money to buy something to share. Meanwhile, Hex searches for the Titan Gauntlets that were stolen from him, and decides to hex things in the market so that they look for him. Meanwhile, Ben and Gwen find a store. Gwen wants to buy some skates and Ben a muddy drinks machine. Seeing that Ben and Gwen can not agree, a woman offers them the Gloves of the Titans, but they reject it and leave. Seeing that Hex is looking for the mittens, Ben as Diamondhead has a fight against Hex. Then Hex changes the bodies of Ben and Gwen. Ben, Gwen and Max return to the shop of the lady who offered them the gauntlets and buy them, Ben puts on his mittens and Gwen transforms into Four Arms. Hex is overcome by Ben and Four Arms, but he gets up and immobilizes them, allowing him to take the mittens. Gwen transforms into Upgrade and learns to use her powers with Ben's help. When Hex reaches the maximum point of the titan gauntlets, Upgrade fuses with them, improving them until destroying them. Hex is sent to prison and Ben and Gwen recover their bodies, while the lady puts Hex's book on sale.
Major Events
Omnitrix Alien Debuts
Characters
Villains
Aliens Used
By Ben
By Gwen
Allusions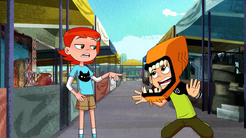 Trivia