Fistina
Talk

0
2,888
pages on Ben 10 Planet
Fistina
General Information
Species
Acrosian
Affiliations
Psyphon (formerly)
Argit
Occupation(s)
Criminal (formerly)
Antihero
Powers and Abilities
Abilities
Power Armor
Detaching and reattaching body parts
Relationships
Alias
Lovely Fistina (Psyphon)
Big (Ben)
Details
Voice Actor
Morgan Lofting
First Appearance
The More Things Change: Part 1
Fistina is a villain in Omniverse. She is an Acrosian from an unknown planet.
Appearance
Fistina is a pink alien with yellow eyes inside an orange and black power armor. She does not have a torso.
Powers and Abilities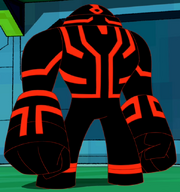 Fistina's abilities come from a battle armor which gave her some durability, mobility, as well as the power to shoot her fist like a grappling hook. It also enhanced her strength.
Formerly
When Fistina was mutated into a half-Galvanic Mechamorph similar to Malware, she has all the Galvanic Mechamorph powers until it was taken away by the now-repaired Omnitrix.
Personality
Fistina was the right-hand woman of Bubble Helmet. She doesn't seem to care about anything, as long as she gets to fight someone who dares to stand in her team's way.
Weaknesses
In her mutated half-Galvanic Mechamorph form she was sensitive to magnetic fields.
History
In The More Things Change: Part 1 Fistina, Liam, and Bubble Helmet come into Mr. Baumann shop and Mr. Baumann pays then Tals but Bubble Helmet gets into a fight with Ben Tennyson (as Cannonbolt). While Fistina and Liam set the bomb on the floor, Cannonbolt bumps into Fistina and she bumps into food stands. Fistina later after Cannonbolt takes Liam, Fistina shoots one of her arms at Cannonbolt. Which after Cannonbolt jumps over Fistina dropping Liam. Bubble Head activates the bomb but Rook blasts Bubble Head, Liam, and Fistina. Afterwards they ascape into Undertown.
In The More Things Change: Part 2 they come back working for Psyphon.
Appearances
Ben 10: Omniverse
Trivia
Fistina's physical appearance is modelled after Crasher from the Hanna-Barbera animated series Challenge of the Go Bots.
Fistina's name is a portmanteau of the word "Fist" and the name "Christina".
She speaks in a German accent.
Fistina's suit was created by Techadon Weapon Masters.

Because of this, she is familiar with the name "Techadon".

According to Derrick J. Wyatt, Rook is a love interest of Fistina. In Rules Of Engagement, she still refers to him as "Little Rook" despite he told her that she's under arrest
In Special Delivery, Fistina dated Loovis Slerdlerk.
See Also
Ben 10 Villains
Main Villains
Albedo • Aggregor • Diagon • Incursean Empire • Forever Knights • Khyber • Malware • The Rooters • Vilgax • Zs'Skayr
Secondary Villains
Aloysius Animo • DNAliens • Elena Validus • Eon • Flame Keepers' Circle (Conduit Edwards, Esoterica) • Hex • Kane North • Lucubra • Michael Morningstar • Negative 10 • Psyphon • The Sotoraggian Mercenaries (Sixsix, Sevenseven, Eighteight, Twotwo) • Vulkanus • Will Harangue • Xenocyte • Zs'Skayr's Minions (Dr. Viktor, Mummy, Yenaldooshi, Crüjo, Kuphulu)
Minor Villains
Adwaita • Aggregor's Soldiers • Animo's Creations • Billy Billions • Carl Nesmith • Circus Freak Trio • Clancy • Computron • Computron's Minions • Evil Way Big • Fistrick's Gang (Fistrick, Corvo, Hoodlum, Unnamed Thug) • Gorvan • Jennifer Nocturne • Kraab • Ma Vreedle • Nanochips • Nyancy Chan • Palorfang • Pickaxe Aliens • Psyphon's Gang • R.E.D. • Rojo and her gang • Sublimino • Seebik • Slix Vigma • Squires • Ssserpent • Sunder • Sunny • Techadon Robots • Trumbipulor • Violet Offenders • Vilgax's Drones • Zombozo
One-Time Villains
Camille's Ex-Boyfriend • Captain Kork • Coach Finn • Collectimus • Garbage Monster • Highbreed Tree Monster • Howell Wayneright • Hulex (Hulex Colonel, Hulex Workers) • Jarrett • Kolar • Mayor Coleman • Mechaneers • Mizaru • Morgg • Mr. Mann • Mrs. Mann • Mutant Seagulls • Mycelium • Lord Transyl • Plant Alien • Plant Clones • Paltroon • Ragnarok • Red Robot • Road Crew • S.A.M. • Synthroid • Squid Monsters• The Decoy Queen • The Great One • Zombie Clown
Frenemies
Argit • Baz-El • Bellicus • Blarney T. Hokestar • Fistina • Hope • Hope's Stone Creatures • Mazuma • Mr. Baumann • Null Guardians • Pakmar • Raff • Serena • Simian • Solid Plugg • Vreedle Brothers (Octagon Vreedle, Rhomboid Vreedle)
Former Villains
Bivalvan • Cash • Dragon • Decka • Devlin Levin • Eon's Servants • Ester • Freed Ultimate Versions • Helen Wheels • Highbreed (Reinrassic III, Highbreed Commander, Highbreed Councilors) • J.T. • Kenko • Kevin Levin • Manny Armstrong • Mutant Pumpkins • P'andor • Prisoner 775 • Ra'ad • Retaliator • Sir George • Technorg • The Great One's Worshipers (Leader Alien, Enforcer Alien, Interpreter Alien) • Thomas Jingles • Vance Vetteroy • Victor Validus • Winston • Yeti • Zed
Generator Rex Villains
Alpha • Biowulf • Black Knight • Skalamander • I-Bol
The Secret Saturdays Villains
V.V. Argost • Munya
Future & Alternate Villains
Crooks • Dr. Animo • Exo-Skull • Gorvan • Kevin 11,000 • Mot Snikrep • Sploot • Vilgax