Eon's Servants
Talk

0
2,661
pages on Ben 10 Planet
Eon's Servants
General Information
Species
Chronian (Race Against Time)
Human (Ben 10,000 Returns)
Robots (Ben Again)
Affiliations
Eon (boss)
Occupation(s)
Servants
Powers and Abilities
Abilities
Enhanced Agility
Equipment
Energy Swords
Relationships
Relatives
Ben Tennyson (Alternate timeline counterpart)
Details
First Appearance
Ben 10: Race Against Time
Eon's Servants are a small group who serve and help Eon.
History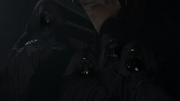 When they first appear, Eon has them fight Heatblast. After a short fight, Heatblast defeated them.
Later, they were seen with Eon hidden in the Clock Tower. In there, Eon suffers a headache. One of his servants tries to help, but he prevents this and attacks him, cruelly ordering the others to "let him die".
Eon uses them only to gain the advantage in battle and to do some of his dirty work.
They are believed to be previously enslaved humans or creatures belonging to Eon's planet, a race of the same species, limbs of the same species and under-age mutants or beings from another dimension.
They appear for the last time when Ben (as Eon), calls for them and they took the plumber's weapons away. They were then destroyed when Ben regained control over his form.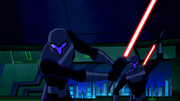 In Ben 10,000 Returns, Eon used his servants to attack Ben 10,000, but they were all defeated. They later appeared in the present, fighting alongside their master. After Gwen used a spell to freeze them, it was revealed that they were alternate versions of Ben himself, who had their powers drained and placed under Eon's control. When Eon vanished from this universe with the destruction of the Hands of Armageddon, everything he did was undone and the alternate Bens were returned to their respective timelines.
In Ben Again, Eon summons his servants to aid him in the final battle. They resemble their Ultimate Alien selves, but since the alternate Bens were restored to their own time and place after Eon's previous defeat, now they are just robots.
Appearance
In Ben 10: Race Against Time, they are completely black, except their faces, wearing a brown tunic and a helmet with mirror effects. Their faces resemble a pig-nosed ogre, with wrinkled skin and their eyes closed.
In Ben 10,000 Returns, they all look like Ben.
In Ben Again, they wore suits similar to the ones in Ben 10,000 Returns, and were never unmasked.
Appearances
Ben 10
Ben 10: Ultimate Alien
Ben 10: Omniverse
Trivia
See Also
Ben 10 Villains
Main Villains
Albedo • Aggregor • Diagon • Incursean Empire (Attea, Dr. Psychobos, Frolic, Lieutenant Rana, Milleous, Sang-Froid, Major Glorff), • Forever Knights (Connor, Driscoll, Enoch, Joseph Chadwick, Patrick, Red Knight, Sir Cyrus, Sir Dagonet, Sir Morton, Sir Reginald, Squire, Twin Knights, Urian) • The Faction (Khyber, Khyber's New Dog, Malware) • The Rooters • Vilgax • Zs'Skayr
Secondary Villains
Aloysius Animo • DNAliens • Elena Validus • Eon • Flame Keepers' Circle (Conduit Edwards, Esoterica) • Hex • Lucubra • Michael Morningstar • Negative 10 • Psyphon • The Sotoraggian Mercenaries (Sixsix, Sevenseven, Eighteight, Twotwo) • Vulkanus • Will Harangue • Xenocyte • Zs'Skayrs's Servants (King Viktor, Mummy, Yenaldooshi)
Minor Villains
Adwaita • Aggregor's Soldiers • Animo's mutant animals (Frankencryptid, Mutant Ant, Mutant Bat, Mutant Bat 2, Mutant Chicken, Mutant Cockatiel, Mutant Frog, Mutant Giraffe, Mutant Hamster, Mutant Hornet, Mutant Lepidopterran, Mutant Mammoth, Mutant Mosquito, Mutant Prairie Dog, Mutant Seagull, Mutant Squid, Mutant Tyrannosaurus,Mutant Kangaroo,Mutant Snail) • Billy Billions • Camille's Ex-Boyfriend • Captain Kork • Carl Nesmith • Circus Freak Trio (Acid Breath, Frightwig, Thumbskull) • Clancy • Coach Finn • Computron • Computron's Minions • Evil Way Big • Fistrick's Gang (Fistrick, Corvo, Hoodlum, Unnamed Thug) • Garbage Monster • Gorvan • Highbreed Tree Monster • Howell Wayneright • Hulex (Hulex Colonel, Hulex Workers) • Jarrett • Jennifer Nocturne • Kraab • Kolar • Ma Vreedle • Mayor Coleman • Mechaneers • Mizaru • Morgg • Mr. Mann • Mrs. Mann • Mutant Seagull (Ultimate Alien) • Mycelium • Nanochips • Nyancy Chan • Paltroon • Palorfang • Pickaxe Aliens • Plant Alien • Plant Clones • Psyphon's Gang (Bubble Helmet, Bug-Lite, Fistina, Liam, Sweet-Eels Sparklefunk, Thunderpig, Tummyhead, Unknown Psyphon Thug) • R.E.D. • Ragnarok • Red Robot • Road Crew (Baron Highway, Road Rage, Turbine) • Rojo's Gang (Rojo) • Sublimino • S.A.M. • Seebik • Slix Vigma • Squires • Ssserpent • Sunder • Sunny • Synthroid • Techadon Robots • The Decoy Queen • The Great One • Trumbipulor • Violet Offenders • Vilgax's Drones • Zombozo
Frenemies
Argit • Baz-El • Bellicus • Blarney T. Hokestar • Hope • Hope's Stone Creatures • Mazuma • Mr. Baumann • Null Guardians • Pakmar • Raff • Serena • Simian • Vreedle Brothers (Octagon Vreedle, Rhomboid Vreedle)
Former Villains
Bivalvan • Cash • Dragon • Decka • Devlin Levin • Eon's Servants • Ester • Helen Wheels • Highbreed (Reinrassic III, Highbreed Commander, Highbreed Councilors) • J.T. • Kenko • Kevin Levin • Khyber's Dog • Manny Armstrong • P'andor • Prisoner 775 • Ra'ad • Retaliator • Sentient Ultimate Big Chill • Sentient Ultimate Cannonbolt • Sentient Ultimate Echo Echo • Sentient Ultimate Humungousaur • Sentient Ultimate Spidermonkey • Sentient Ultimate Swampfire • Sir George • Technorg • The Great One's Worshipers (Leader Alien, Enforcer Alien, Interpreter Alien) • Thomas Jingles • Vance Vetteroy • Victor Validus • Winston • Yeti
Generator Rex Villains
Alpha • Biowulf • Black Knight • Skalamander • I-Bol
The Secret Saturdays Villains
V.V. Argost • Munya
Future & Alternate Villains
Albedo (Vilgax Attacks Timeline) • Albedo (Cosmic Destruction Timeline) • Crooks (Dimension 23) • Dr. Animo (PoE Timeline • Dr. Animo (Ben 10,000 Timeline) • Enoch (Cosmic Destruction Timeline) • Enoch (PoE Timeline) • Evil Way Big (Albedo) • Exo-Skull • Gorvan (Alternate Timeline) • Kevin 11,000 • Kevin Levin (PoE Timeline) • Khyber (Omniverse Game Timeline) • Malware (Omniverse Game Timeline) • Mot Snikrep • Psyphon (Cosmic Destruction Timeline) • Psyphon (Omniverse Game Timeline) • Sploot • Terracotta Army • Terracotta Dragon • Terracotta General • Vilgax (Ben 10,000 Timeline) • Vilgax (Gwen 10 Timeline) • Vilgax (Vilgax Attacks Timeline) • Vilgax (PTE Timeline) • Vilgax (PoE Timeline)