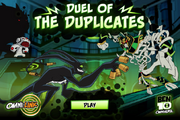 Duel of the Duplicates
is a
Ben 10: Omniverse
online game on the Cartoon Network website.
Characters
Playable Characters
Villains
Errors
Feedback looks like 11 year old Feedback.
On the sidebar next to the playing screen, it says that the space bar is used to jump. However, the up key serves this purpose, and opening up the "How to Play" menu while playing reveals that the space bar is used to attack.
When Albedo transforms back to his human form, the flash seen is green instead of red even though his Ultimatrix symbol is red.
Bugs
Sometimes if you lose a Boss battle and replay, there are two Bosses. The second boss either runs out of the screen or continues to fight.
Trivia
At the end of the game, when the player wins, Albedo escapes and isn't followed.
Gallery
Ad blocker interference detected!
Wikia is a free-to-use site that makes money from advertising. We have a modified experience for viewers using ad blockers

Wikia is not accessible if you've made further modifications. Remove the custom ad blocker rule(s) and the page will load as expected.