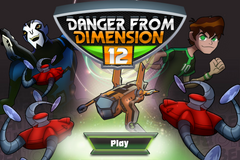 Danger from Dimension 12 is an online game based on Ben 10: Omniverse.
Controls
Villains
Power-ups
Clockwork: Makes all enemies move in slow motion for a short period.
Energy: Fills up your energy meter.
Gravattack: Puts up a shield around your ship for a short period of time.
Rook: Upgrades your main weapon.
Score: Adds 250 points to your score.
Shocksquatch: Enables an electrical shockwave that destroys all enemies in the area.
Trivia
Clockwork's power-up icon is of his Ultimate Alien design.
Throughout the levels, the time of day noticeably changes from midday, to evening (orange tints), to nighttime.(dark tints)