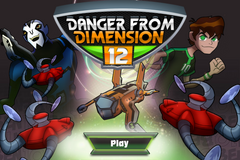 Danger from Dimension 12 is an online game based on Ben 10: Omniverse.
Controls
Villains
Power-ups
Clockwork: Makes all enemies move in slow motion for a short period.
Energy: Fills up your energy meter.
Gravattack: Puts up a shield around your ship for a short period of time.
Rook: Upgrades your main weapon.
Score: Adds 250 points to your score.
Shocksquatch: Enables an electrical shockwave that destroys all enemies in the area.
Trivia
Clockwork's power-up icon is of his Ultimate Alien design.
Throughout the levels, the time of day noticeably changes from midday, to evening (orange tints), to nighttime.(dark tints)
Ad blocker interference detected!
Wikia is a free-to-use site that makes money from advertising. We have a modified experience for viewers using ad blockers

Wikia is not accessible if you've made further modifications. Remove the custom ad blocker rule(s) and the page will load as expected.