DNAliens
Talk

5
2,399
pages on Ben 10 Planet
You were moved from DNAlien
DNAlien
General Information
Species
1/2 Host's species 1/2 Xenocyte
Home World
Varies
Body
Humanoid (most)
Animalistic (Vulpimancer and Arachnichimp DNAliens)
Powers and Abilities
Abilities
Slime Spit (some)
Enhanced Strength
Pyrokinesis (Pyronite DNAliens)
Quill Projectiles (Vulpimancer DNAliens)
Chlorokinesis (Florauna DNAliens)
Energy Absorption (Human/Osmosian DNAliens)
Matter Absorption (Human/Osmosian DNAliens)
Flight (Null Guardian DNAliens)
Lasers (Null Guardian DNAliens)
Enhanced Agility (Arachnichimp DNAliens)
Details
Voice Actor
Various
First Appearance
Ben 10 Returns: Part 1
DNAliens are 1/2 any alien species 1/2 Xenocytes who serve the Highbreed despite their speciesism. They often use ID Masks that can make them look human. They thrive on cold weather. Dwayne has confirmed DNAliens are hybrids, not a species, so they are not in any Omnitrix Database.
DNAliens are created when a Xenocyte bonds with a host and is forcibly turned it into a DNAlien, as explained by one in which the DNAlien half of the parasite controls the host half because the host half is "repulsive" to them. These parasites were going to be shipped off in large trucks, but were destroyed thanks to the efforts of Jetray, Gwen, Kevin and Gwen's brother, Ken.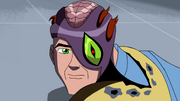 Powers and Abilities
Edit
DNAliens are best known for spitting out slime from their mouths in order to trap their victims. Some DNAliens also have enchanced strength where they can toss around people with ease. They are also good in handling technology such as laser guns to shoot down their foes.
They are weak to high frequency loud sound, heat and DNA repair devices.
Appearances
Edit
Ben 10: Alien Force
Edit
Ben 10: Ultimate Alien
Edit
Ben 10: Omniverse
Edit
In Series
Edit
Picture
Name
Info
Human DNAliens

Human DNAliens have yellow humanoid bodies with black hands and feet with a Xenocyte like head.
Human DNAliens have enhanced strength and a goo spit.

Arachnichimp DNAliens

Arachnichimp DNAliens have yellow Arachnichimp shaped bodies with black hands and feet, tail and a Xenocyte-like head.
They have enhanced agility and a goo spit.
Picture
Name
Info
Pyronite DNAliens

Pyronite DNAliens have a dark yellow body with black hands and feet with a flaming head.
Pyronite DNAliens have Pyronite pyrokinesis.
Pyronite DNAliens are only seen in Ben 10: Alien Force The Video Game.

Vulpimancer DNAliens

Vulpimancer DNAliens have dark orange bodies with black feet and a black back and a visible brain.
Vulpimancer DNAliens have the Vulpimancer ability to shoot quills.
Vulpimancer DNAliens are only seen in Ben 10: Alien Force The Video Game.

Human/Osmosian DNAliens

Human/Osmosian DNAliens are the result of a Xenocyte merging with a Human/Osmosian hybrid.
Human/Osmosian DNAliens have yellow humanoid bodies with black hands and feet with a Xenocyte like head.
Human/Osmosian DNAliens have the Osmosian abilities to absorb matter and energy and have a goo spit.
Human/Osmosian DNAliens are only seen in Ben 10: Alien Force The Video Game.

Null Guardian DNAliens
Florauna DNAliens
Ben 10 Villains
Main Villains
Aggregor • Diagon • Incursean Empire (Attea, Dr. Psychobos, Frolic, Lieutenant Rana, Milleous, Sang-Froid, Major Glorff), • Forever Knights (Connor, Driscoll, Enoch, Joseph Chadwick, Patrick, Red Knight, Sir Cyrus, Sir Dagonet, Sir Morton, Sir Reginald, Squire, Urian) • The Faction (Khyber, Malware) • Vilgax • Zs'Skayr
Secondary Villains
Albedo • Aloysius Animo • DNAliens • Elena Validus • Eon • Flame Keepers' Circle (Conduit Edwards, Esoterica) • Hex • Lucubra • Michael Morningstar • Negative 10 • Psyphon • The Sotoraggian Mercenaries (Sixsix, Sevenseven, Eighteight) • Vulkanus • Will Harangue • Xenocyte • Zs'Skayrs's Servants (King Viktor, Mummy, Yenaldooshi)
Minor Villains
Adwaita • Aggregor's Soldiers • Animo's mutant animals (Heatbat, Mutant Ant, Mutant Chicken, Mutant Cockatiel, Mutant Frog, Mutant Giraffe, Mutant Hamster, Mutant Hornet, Mutant Lepidopterran, Mutant Mammoth, Mutant Mosquito, Mutant Seagull, Mutant Squid, Mutant Tyrannosaurus) • Billy Billions • Camille's Ex-Boyfriend • Captain Kork • Carl Nesmith • Circus Freak Trio (Acid Breath, Frightwig, Thumbskull) • Clancy • Coach Finn • Computron • Computron's Minions • Evil Way Big • Fistrick's Gang (Fistrick, Corvo, Hoodlum, Unnamed Thug) • Garbage Monster • Gorvan • Highbreed Tree Monster • Howell Wayneright • Jarrett • Jennifer Nocturne • Kraab • Kolar • Ma Vreedle • Mayor Coleman • Mechaneers • Mizaru • Morgg • Mr. Mann • Mrs. Mann • Mutant Seagull (Ultimate Alien) • Mycelium • Nanochips • Nyancy Chan • Palorfang • Pickaxe Aliens • Plant Alien • Plant Clones • Psyphon's Gang (Bubble Helmet, Fistina, Liam, Thunderpig, Tummyhead) • R.E.D. • Ragnarok • Red Robot • Road Crew (Baron Highway, Road Rage, Turbine) • Rojo's Gang (Rojo) • Sublimino • S.A.M. • Seebik • Slix Vigma • Squires • Ssserpent • Sunder • Sunny • Synthroid • Techadon Robots • The Decoy Queen • The Great One • Trumbipulor • Violet Offenders • Vilgax's Drones • Zombozo
Frenemies
Argit • Baz-El • Bellicus • Blarney T. Hokestar • Hope • Hope's Stone Creatures • Mazuma • Mr. Baumann • Null Guardians • Pakmar • Raff • Serena • Simian • Vreedle Brothers (Octagon Vreedle, Rhomboid Vreedle)
Former Villains
Bivalvan • Cash • Dragon • Decka • Devlin Levin • Eon's Servants • Ester • Helen Wheels • Highbreed (Reinrassic III, Highbreed Commander, Highbreed Councilors) • J.T. • Kenko • Kevin Levin • Khyber's Dog • Manny Armstrong • P'andor • Prisoner 775 • Ra'ad • Retaliator • Sentient Ultimate Big Chill • Sentient Ultimate Cannonbolt • Sentient Ultimate Echo Echo • Sentient Ultimate Humungousaur • Sentient Ultimate Spidermonkey • Sentient Ultimate Swampfire • Sir George • Technorg • The Great One's Worshipers (Leader Alien, Enforcer Alien, Interpreter Alien) • Thomas Jingles • Vance Vetteroy • Victor Validus • Winston • Yeti
Generator Rex Villains
Alpha • Biowulf • Black Knight • Skalamander • I-Bol
Future & Alternate Villains
Albedo (Vilgax Attacks Timeline) • Albedo (Cosmic Destruction Timeline) • Crooks (Dimension 23) • Dr. Animo (PoE Timeline • Dr. Animo (Ben 10,000 Timeline) • Enoch (Cosmic Destruction Timeline) • Enoch (PoE Timeline) • Evil Way Big (Albedo) • Exo-Skull • Gorvan (Alternate Timeline) • Kevin 11,000 • Kevin Levin (PoE Timeline) • Khyber (Omniverse Game Timeline) • Malware (Omniverse Game Timeline) • Mot Snikrep • Psyphon (Cosmic Destruction Timeline) • Psyphon (Omniverse Game Timeline) • Sploot • Terracotta Army • Terracotta Dragon • Terracotta General • Vilgax (Ben 10,000 Timeline) • Vilgax (Gwen 10 Timeline) • Vilgax (Vilgax Attacks Timeline) • Vilgax (PTE Timeline) • Vilgax (PoE Timeline)