Con of Rath

General Information

Original broadcast
January 8, 2010
Series
Ben 10: Alien Force

Details

Season
3
Episode number
39
Overall number
91

Credits

Written by
Len Uhley
Directed by
Dan Riba

Episode Guide

Previous episode
Busy Box
Next episode
Primus
Con of Rath is the thirty-ninth episode of Ben 10: Alien Force.
Plot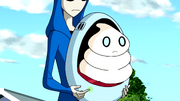 Planning to go to the beach on a good day, Gwen rushes Ben and Kevin, hoping that the group will have enough time to relax before desperate emergencies call. Unfortunately for them, Zaw-Veenull, Lewodan ambassador, along with Cicely, teleport in to ask Ben to deliver their crown prince, Tiffin, to Jarett of the Pantophage, in order to keep peace between the two species.
Shortly after accepting, they begin their trek in space. The Omnitrix malfunctions and transforms Ben into an Appoplexian named Rath who appears to be overly aggressive and violent. They eventually stop at the Space Cafe to get something to eat and Kevin runs into his old partner, Argit. Soon they are attacked by the Vreedle Brothers who are summoned secretly by Argit to kidnap the Tiffin and hold it for ransom. Rath defeats them and they continue on their trek to King Jarett.
Later on, they are attacked by an Incursean commander named Sangfroid who doesn't want them to restore peace between the two planets. So Rath boards his ship and they make an agreement to let Ben, Gwen, and Kevin go on their way. However, as it turns out, the Incursean lied and attacks them again. Soon they are cornered right in front of a black hole, and Kevin does a risky stunt with the ship to save them, allowing the Incursean to get sucked up instead. Unfortunately, Kevin burns out the engine, so they stop on a nearby planet to repair it.
As it turns out, the planet was full of Taydenite, and it happens to make Rath very angry. When Kevin questions, Gwen states that every time they come upon a supply of Taydenite, Vulkanus shows up and tries to kill them. Kevin then denies it only to have Vulkanus show up with his minions and say, "Hey, what are you doing here? It doesn't matter, kill them!" But in the end Rath threatens to "kick his butt", and defeats him with ease. Rath breaks Vulkanus out of his suit with one stomp and takes the parts they require for fixing their spaceship before taking off again.
Finally, they reach King Jarett's planet only to find that he was going to eat the Tiffin, which he does right in front of them. Furious and disturbed, Rath then jumps down his throat and saves it before it is digested. King Jarett gets angry and wages war with the Lewodans, but Rath threatens that if he does, he will jump down his throat again and knit his intestines into a sweater. This frightens Jarett, and he willingly frees them. Zaw-Veenull comes back, and Rath finds out that he was more-or-less aware that Jarett was going to eat the Tiffin. He angrily threatens the ambassador to never talk to him again. Cicely takes the baby and leaves. Right after that happens, Rath transforms back into Ben and discovers that it was Tiffin that kept him in his Appoplexian form and that Kevin knew all along. Angered, Ben transforms into Rath again, saying that he wanted a word with him.
Noteworthy Events
Major Events
Ben transforms into Rath for the first time.
Ben and the team are to deliver the Tiffin to Jarett, but have many obstacles and meet a lot of old enemies.
The Space Cafe was featured for the first time.
Characters Debuts
Omnitrix Alien Debuts
Minor Events
Rath's species is revealed.
It is revealed Gwen doesn't approve of Kevin's association with Argit.
Characters
Villains
Aliens Used
Rath (first appearance; x2; first time was unintentional transformation)
Quotes

Rath: YOU WANNA FIGHT ME, KEVIN LEVIN?! (Throws Kevin at the wall) LET'S GO!!!
Gwen: Someone needs a time out! (puts a mana sphere over Rath's head)
Rath: (Tries to get the sphere off his head) TIME OUT?! IT'S TIME FOR YOU TO LEARN THAT NOBODY CAN BEAT ME AT-!!! Did I just use up all my air? (hangs his tongue out of his mouth and falls unconscious)
(Rath regains consciousness, Gwen and Kevin walk up to Rath)
Gwen: Ben, can you understand me?
Rath: 'Course I can, Gwen Tennyson!! You think I'm stupid?!!
Kevin: Yep, thick as a brick.
Rath: (stands up) YOU WANNA FIGHT?! YOU WANNA FIGHT?!! DAAAAAAAAGGGHHH!!! (attempts to attack, but cannot because Gwen has used her mana to restrain him)
Gwen: Not helping, Kevin. (turns back to Rath) Calm down, Ben! We need you to listen. You've become something called an Appoplexian. We looked it up in the ALDB.
Rath: Huh?
Gwen: Alien Lifeform DataBase.
Kevin: Appoplexians are powerful, argumentative and extremely aggressive. They believe any problem can be solved by hitting it.
Rath: Not true! Sometimes you have to hit things a LOT!
Kevin: It also says they're not too bright. (crosses his arms. Rath growls at him) Dude, did you just growl at me?
Gwen: Okay, Ben, I'm going to let you go, but you have to stay calm. Control your anger. No stomping! (lets Rath go)
Kevin: Maybe you wanna reboot the Omnitrix and get back to normal?
Rath: Okay, but not 'cause you told me to!
Kevin: Nope. It was your idea.
Rath: Okay. Here we go. Changing back. (slaps the Omnitrix symbol, but doesn't change back and the Omnitrix symbol makes a 'powering down' noise) Wha'? It's busted! (whacks the Omnitrix symbol repeatedly, but still doesn't change back) Come... OFF ME! (starts to pull at the Omnitrix symbol, obviously generating a lot of pain)
Gwen: Stop! Ben!
Rath: (still yanking at the Omnitrix symbol, eventually flings himself onto the ground. Gwen, Kevin and the Tiffin go over. Rath sits up, surprising the others) Anybody hungry?!




Gwen: (about Argit) He's a conman, who would sell his own mother for lunch money.
Kevin: I happen to know he got top dollar for his mom.




Rhomboid: (Sees Rath) Is that an Appoplexian?
Octagon: Yep, and they're even stupider and meaner than we are!




Rath: (After Octagon blows up his plate of food) LEMME TELL YA SOMETHIN', OCTAGON VREEDLE!!!! YOU'VE GONE TOO FAR!!! A MAN'S FOOD IS HIS CASTLE!!!
Octagon: (confused) I believe what you've done there is mixing what-ya-might-call-it,... metaphors!




Sangfroid: Greetings, Earthlings. This is commander Sangfroid.
Kevin: You're an Incursean.
Sangfroid: Yeah, I am. Now, as you know, we Incurseans love war. Can't get enough of this stuff. Its what we live for.
Gwen: Aha... And your point is...?
Sangfroid: This peace-mission your on... we're against it. So prepare to be boarded, then killed. Nothing personal.
Rath: LEMME TELL YA SOMETHIN', INCURSEAN COMMANDER SANGFROID!!! RATH HAS A BETTER IDEA!!! I'M COMING OVER!!! (Walks to the airlock)
Gwen: You're gonna need a space suit!
Rath: Whatever!




Rath: TAYDENITE?!
Gwen: Told you he wouldn't like it.
Kevin: (being lifted by Rath) What's the big deal?
Rath: The big deal?! The big deal is...uhhh...uhhhh...(puts Kevin down) You tell him.
Gwen: Because, every time you mention Taydenite, Vulkanus shows up and tries to kill us.
Rath: What she said!
Kevin: Come on...You're exaggerating.
Vulkanus: (appears out of a cave) Hey! What are you doing here?! (army of aliens come out behind him) Doesn't matter... Kill them!




Vulkanus: Hang on...Is that you Tennyson?!
Rath: Yeah. So?
Vulkanus: So what happened, did you set the Omnitrix to UGLY? (laughs) Set the Omnitrix to ugly...! (laughs at his joke more; his minions start to do the same)
Rath: LEMME TELL YA SOMETHIN', VULKANUS!!!
Kevin: (steps forward before Rath can attack) Whoa, big guy! Let me handle this.
Gwen: You?
Kevin: Me. You think Ben's the only one who can do a negotiation?
Gwen: Well, not at the moment.
Kevin: (turns to Vulkanus) Vulkanus, you've made a lot of money off me. Do we have to be enemies?
Vulkanus: Pretty much, yeah.
Kevin: Even if I'm willing to pay for what I need (pulls out a small gold cube), say 10 times the golden rate.
Vulkanus: I like the way you're thinking! (leans forward) But considering that you're in my territory, and there's no way for you to escape, the number seems...low.
Rath: Come on, that's a great deal considering every time we run up against you, we kick your butt!
Vulkanus: What did you say?
Rath: I should have said spank your butt, since you're just a little baby in that big mechanical suit!
Kevin: Uh Ben, I got this one?
Rath: I'm gonna call you Babyman, Babyman.




Kevin: As we make our final approach to the Pantophage home planet, let me say thanks to all of you for flying with us on Kevin Levin airway.
Gwen: Oh, just button it.




(Rath, Gwen, and Kevin bring the Tiffin to a large temple where a huge, red Jarett is sitting on a throne)
Jarett: I am Jarett, King of the Pantophage.
Rath: (snatches the Tiffin's egg from Kevin) Let's get it over with. WE BROUGHT YOU THE TIFFIN!
Jarett: And, I thank you for your trouble. (He takes hold of the egg. The Tiffin squeaks sadly)
Rath: Sorry, little guy.
(He lets go of the egg. Jarett places the Tiffin on top of a yellow cake)
Jarett: There. Isn't that... lovely? (Quickly picks up the Tiffin and eats him, then rubs his stomach) Ah...
(Rath, Gwen and Kevin stare in disbelief and shock.)
Kevin: UGH! (Kevin faints)
Rath: DID YOU JUST EAT THE BABY?!
Jarett: Ah, yes. I did.
Rath: I THOUGHT YOU WERE GONNA KEEP HIM!!! I THOUGHT IT WAS A PEACE OFFERING!!!!
Jarett: Yes, well, he was all that. Plus a rare delicacy. That's what a peace offering is, here on my planet.
Rath: Eating... BABIES... IS NOT... COOL!!!! (He jumps down Jarett's throat, wriggles around in his stomach, and bursts through Jarett's front teeth, holding the Tiffin. The Tiffin squeaks.) Yeah, I know. Same here.
Jarett: How dare you! Certainly you realize that this means war!
Rath: (gives Kevin the Tiffin) Hold this. (He leaps onto Jarett's face) LEMME TELL YA SOMETHIN', JARETT OF PANTOPHAGE!!! I JUST JUMPED DOWN YOUR THROAT!!! YOU START A WAR WITH THE LEWODANS AND I'LL DO IT AGAIN!!! ONLY NEXT TIME, I'LL KNIT YOUR INTESTINES INTO A SWEATER!!!!




(The Tiffin reunites with Sicily)
Sicily: My son! Alive! It's a miracle!
Kevin: Glad to help. Now, about our fee-(Gwen elbows him)
Gwen: We're happy it all worked out.
Zaw-Veenull: Nevertheless. On behalf of Lewoda, let me to offer our sincere gratitude to you, for negotiating a peace treaty with the Pantophage, who otherwise would have-
Rath: (confronts him) Did you know Jarett was gonna eat the baby?!
Zaw-Veenull: Er, well, I wasn't sure exactly, but-
Rath: (Points his claw at Zaw-Veenull's face) Never...talk to me...again. (Zaw-Veenull backs away as Rath retracts his claw)
Cecily: Thank you, Ben Tennyson. Thank you all!
(Rath turns back into Ben as Zaw-Veenull, Sicily, and the Tiffin leave)
Gwen: Ben, you're back!
Ben: Yeah! As soon as the Tiffin left, I went back to normal.
Gwen: That baby must have sent out some sort of interference that messed with the Omnitrix.
Kevin: Good guess.
Ben: You KNEW?!
Kevin: Well, I wasn't sure exactly, but...
Ben: (Angry) Kevin... Rath would like a word with you. (turns into Rath) LEMME TELL YA SOMETHIN', KEVIN E. LEVIN!
Kevin: (squeaks) Please don't.




Kevin: This whole trip is like one of those dreams, where everyone you know is in it, and they all wanna hurt you!
Gwen: I don't have dreams like that.
Kevin: Oh. Uh, me neither!




Gwen: Hurry up! We're losing our light!
Ben: We're not losing the light; it's eight in the morning! The beach is open all day.
Gwen: You're right. Get a move on, Kevin!!
Kevin: (drives the car out of the garage) Geez, I'm coming! I'm like, five minutes late. What's the big deal?
Gwen: I'll tell you what the big deal is: I've been trying to go to the beach for a month, and every time we're about to leave, something happens. Monster on the loose, alien invasion...
Ben: Sometimes it rains.
Gwen: Well, not this time. This time- (Zaw-Veenull appears) ...Just forget I said anything.



Naming and Translations
| Language | Name | Origin |
| --- | --- | --- |
| French | La paix mais à quel prix? | Peace, but at what price? |
| Hungarian | Frász irányít | Rath Controls |
| Portuguese (Br) | Questão de Ira | Question of Anger |
| Spanish (HA) | Buscando la Paz | Seeking Peace |
| Spanish (Spain) | El Defensor Airado | The Angry Defender |
Allusions
Ad blocker interference detected!
Wikia is a free-to-use site that makes money from advertising. We have a modified experience for viewers using ad blockers

Wikia is not accessible if you've made further modifications. Remove the custom ad blocker rule(s) and the page will load as expected.