The Cloaking projector was a device used by the DNAliens to hide the construction of the Hyperspace Jump Gate in Los Soledad from humans.
Appearance
The cloaking projector has three gray rectangular panels on the outside with several brass-colored panels on it. The interior of the cloaking projector is mostly brass colored in a cylindrical like shape.
Features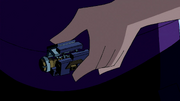 The cloaking projector is able to make someone or something invisible as demonstrated in
Undercover
when
Ben
went through the cloaking field and his team could only see a part of him.
Appearances
Ben 10: Alien Force
Trivia
Ad blocker interference detected!
Wikia is a free-to-use site that makes money from advertising. We have a modified experience for viewers using ad blockers

Wikia is not accessible if you've made further modifications. Remove the custom ad blocker rule(s) and the page will load as expected.