The Cerebral vortex is a machine that Albedo built to steal Azmuth's intelligence.
History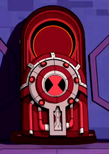 In
A Fistful of Brains
, the first one succeeded in siphoning Azmuth's intelligence, but was destroyed when 
Khyber's Ship
 crashed.
In For a Few Brains More, Albedo built a second one at Billions Tower, where he absorbed Azmuth's brain. However, Ben as Bloxx reverted the process. It was later used to put Azmuth's intelligence back into him.
Appearances
Ben 10: Omniverse
Trivia
The original Cerebral Vortex, once the lid was open, looked similar to the original Ultimatrix.
Ad blocker interference detected!
Wikia is a free-to-use site that makes money from advertising. We have a modified experience for viewers using ad blockers

Wikia is not accessible if you've made further modifications. Remove the custom ad blocker rule(s) and the page will load as expected.