Cavern Run is a Ben 10 game on the Cartoon Network website.
Controls
Use the mouse to control your laser, and have Ben run to the end.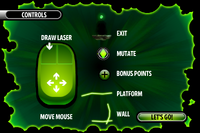 How To Play
Use the mouse to draw your laser and lead Ben to the exit, collecting all the items on the screen while doing so.
Icons to Collect
The Omnitrix symbol allows you to transform into an alien.
The + symbols give you bonus points.
The cave looking thing at the end of each level is the exit. You must go through the exit to complete the level.
Playable Characters
Ad blocker interference detected!
Wikia is a free-to-use site that makes money from advertising. We have a modified experience for viewers using ad blockers

Wikia is not accessible if you've made further modifications. Remove the custom ad blocker rule(s) and the page will load as expected.