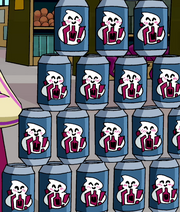 Canned Tiffin is a food that appears in Ben 10: Omniverse.[1]
As the name implies, it is an artificial, canned substitute of the actual Tiffin, which is the crown prince of Lewoda. It is sold at Mr. Baumann's alien market. It is also sold at an ice cream cone-like building in Undertown.
Appearances
Ben 10: Omniverse
Trivia
According to Rook, this food item and the real thing have a large demand in many systems.
References
Ad blocker interference detected!
Wikia is a free-to-use site that makes money from advertising. We have a modified experience for viewers using ad blockers

Wikia is not accessible if you've made further modifications. Remove the custom ad blocker rule(s) and the page will load as expected.