Camille Mann-Tennyson is a Lenopan. She wanted peace on Earth by getting married to the Plumber Joel Tennyson. Her Lenopan form is humanoid, but according to the flashback, it seemed that she had changed after she met Joel.
Powers and Abilities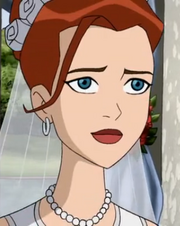 Camille's body is made out of a purple mud-like substance with shapeshifting properties, such as turning into a human being. Other abilities include elasticity, the ability to shape her body parts into anything, and super strength.
Unlike most Lenopans, Camille's true form is a sharp contrast; it is humanoid in appearance but has an elongated head. However, as shown in the flashback, she has a more typical Lenopan form that she can shift to.
Appearances
Ben 10
See Also
Ad blocker interference detected!
Wikia is a free-to-use site that makes money from advertising. We have a modified experience for viewers using ad blockers

Wikia is not accessible if you've made further modifications. Remove the custom ad blocker rule(s) and the page will load as expected.