Bubble Helmet
Talk

0
3,034
pages on Ben 10 Planet
Bubble Helmet is a villain in Omniverse.
Appearance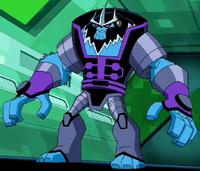 Bubble Helmet is a pink caterpillar-like alien with blue life-support power armor. As his name suggests, he has a prominent round helmet.
Powers and Abilities
Bubble Helmet has two staffs that can be swung around and can shoot lasers, as well as a laser gun. He also has a jetpack.
Weaknesses
He cannot live on a planet like Earth without life support and will have trouble breathing without it.
When he was half Gimlinopithecus, if he got insulated, he couldn't use his electrokinesis.
Appearances
Ben 10: Omniverse
Ben 10 Villains

Main Villains
Albedo • Aggregor • Diagon • Incursean Empire • Forever Knights • Khyber • Malware • The Rooters • Vilgax • Zs'Skayr
Secondary Villains
Aloysius Animo • DNAliens • Elena Validus • Eon • Flame Keepers' Circle (Conduit Edwards, Esoterica) • Hex • Lucubra • Michael Morningstar • The Negative 10 • Psyphon • The Sotoraggian Mercenaries (Sixsix, Sevenseven, Eighteight, Twotwo) • The Vengers (Billy Billions, Mazuma, Carl Nesmith, Kane North) • Vulkanus • Will Harangue • Xenocyte • Zs'Skayr's Minions (Dr. Viktor, The Mummy, Yenaldooshi, Crüjo, Kuphulu)
Minor Villains
Adwaita • Aggregor's Soldiers • Animo's Creations • Circus Freak Trio • Clancy • Computron • Computron's Minions • Evil Way Big • Fistrick's Gang (Fistrick, Corvo, Hoodlum, Fistrick's Thug) • Gorvan • Jennifer Nocturne • Kraab • Ma Vreedle • Nanochips • Nyancy Chan • Pallorfang • Pickaxe Aliens • Psyphon's Gang • R.E.D. • Rojo and her gang • Sublimino • Seebik • Slix Vigma • Squires • Ssserpent • Sunder • Sunny • Techadon Robots • Trumbipulor • Violet Offenders • Vilgax's Drones • Zombozo
One-Time Villains
Camille's Ex-Boyfriend • Captain Kork • Coach Finn • Collectimus • Garbage Monster • Highbreed Tree Monster • Howell Wayneright • Hulex (Hulex Colonel, Hulex Workers) • Jarrett • Kolar • Mayor Coleman • Mechaneers • Mizaru • Morgg • Mr. Mann • Mrs. Mann • Mutant Seagulls • Mycelium • Lord Transyl • Plant Alien • Plant Clones • Poltroon • Ragnarok • Red Robot • Road Crew • S.A.M. • Synthroid • Squid Monsters• Decoy Queen • The Great One • Zombie Clowns
Frenemies
Argit • Baz-El • Blarney T. Hokestar • Fistina • Charmcaster • Charmcaster's Stone Creatures • Mazuma • Null Guardians • Pakmar • Raff • Simian • Solid Plugg • Vreedle Brothers (Octagon Vreedle, Rhomboid Vreedle)
Former Villains
Bivalvan • Cash Murray • Dragon • Decka • Devlin Levin • Eon's Servants • Ester • Freed Ultimate Versions • Helen Wheels • Highbreed (Reinrassic III, Highbreed Commander, Highbreed Councilors) • J.T. • Kenko • Kevin Levin • Manny Armstrong • Mutant Pumpkins • P'andor • Prisoner 775 • Ra'ad • Retaliator • Sir George • Technorg • The Great One's Worshipers (Leader Alien, Enforcer Alien, Interpreter Alien) • Thomas Jingles • Vance Vetteroy • Victor Validus • Winston • Yeti • Zed
Generator Rex Villains
The Secret Saturdays Villains
Future and Alternate Villains
Alpha • Biowulf • Black Knight • Skalamander • I-Bol
V.V. Argost • Munya
Orange Offenders • Dr. Animo • Exo-Skull • Gorvan • Kevin 11,000 • Mot Snikrep • Sploot • Vilgax