Bubble Helmet
Talk

0
3,038
pages on Ben 10 Planet
Bubble Helmet is a villain in Omniverse.
Appearance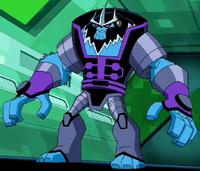 Bubble Helmet is a pink caterpillar-like alien with blue life-support power armor. As his name suggests, he has a prominent round helmet.
History
In Universe Vs. Tennyson, he was freed by Chadzmuth from his cell but was later recaptured by Ben.
Powers and Abilities
Bubble Helmet has two staffs that can be swung around and can shoot lasers, as well as a laser gun. He also has a jetpack.
Weaknesses
He cannot live on a planet like Earth without life support and will have trouble breathing without it.
When he was half Gimlinopithecus, if he got insulated, he couldn't use his electrokinesis.
Appearances
Ben 10: Omniverse