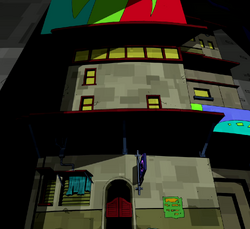 The Black Hole is a bar made in the style of a saloon in Undertown. Its outer sign shows a purple neon black hole with alien writing circling around it. It seems to host a vast array of tough aliens, from bounty hunters, freighter captains, to known criminals.
It appears to be run by one alien who runs multiple bars in Undertown.
Notable Patrons
Appearances
Ben 10: Omniverse
History
See Also
Ad blocker interference detected!
Wikia is a free-to-use site that makes money from advertising. We have a modified experience for viewers using ad blockers

Wikia is not accessible if you've made further modifications. Remove the custom ad blocker rule(s) and the page will load as expected.